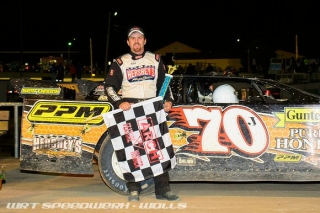 DJ Myers made his first visit to Bedford in 2012 a good one as he raced to the Late Model win Friday night.  Myers came from mid pack to score the thrilling win, snatching it in the closing laps from a disappointed Chris Harr.  Robbie Black dominated the Limited event, going pole to pole for his win in their 20 lapper.  Bill Henney finally ended a run of bad luck by snaring the Semi Late race, Travis Group won the Pure Stock event and Mike Lauffer prevailed in the most exciting race of the night, the 4 Cylinder closer.
    Chris Harr was the Late Model pole sitter and early leader.  Chuck Clise was his earliest chaser but appeared to be no threat  as Harr moved out to the early lead.   While Harr increasingly looked like he was turning around his miserable 2012 luck, DJ  Myers was sliding through the field from his 7th starting spot. By the time of the first caution period on lap 17, Myers was up to third behind Clise and Harr, and had brought tenth starting Andy Haus with him.
     The caution wiped out Harr's decent lead and placed Myers firmly in the mix.  He got by Clise on lap 19, then zipped Harr  two laps later.  Harr then added to the drama by spinning and collecting third place runner Haus on lap 22.  That set up a  three lap shootout between Myers and Jack Pencil, but Myers prevailed for the win.  Pencil took second.  Clise, Matt Parks, Cory Weaver, Wayne Johnson, Harr, Mitch Hack, Haus and Matt Sponaugle  completed the top 10.  Myers and Clise won the heats.
     Original pole sitter DJ Troutman thrilled the crowd when his car broke in front of the field on  the original start creating chaos.   The entire field got by  with no further mayhem.  After repairs, Troutman returned to run the last three laps of the race.   
     After a season of hard luck Robby Black turned things aroud in a big way by dominating the Limited 20 lapper.   He jumped by Travis Calhoun at the start and basically ran away.   Tim Smith emerged as a challenger late with Dave Leidy in tow,  but they made no serious runs at Black.  Leidy spun from his third position on lap 15,bringing out the caution, but Smith was unable to mount a serious challenge over he  last 5 laps.  
     Black led to the finish over Smith,  Ralph Morgan, who came from 12th, Mike Altobelli Jr, Matt owsare, Travis Stickley, Nathan Lasalle, Jos h  Berrier and Calhoun.  Leidy and Smith won the heats
      Car problems and crashes have plagued Bill Henney all season at Bedford but he strung together 15 good laps to take his first win of the season.  He wrestled the lead from Cody Butterbaugh on lap one then ran ahead of a wild battle for the duration.  Bob Jay, Darrell Whetstone and Chris Chamberlain went at it for second until Chamberlain spun on lap 4.  Jay held off Whetstone and a hard charging Zane Weicht  as Chamberlain came from the rear late in the event     Several late lap cautions  closed the field but Henney prevailed for the win.  Jay, Whetstone, Weicht, Chamberlain, Don Wyles, Ryan Beckett, Justin Bonnett  Kerry Molovich and Ray Sheetz completed the top 10.  Beckett and Weicht won the heats.
      Travis Group held off a furious challenge from Bill Replogle to take the Pure Stock event.  Replogle came from eighth to make the late race rally but fell short at the finish.  Group led Replogle to the checkered flag, ahead of  RT Troutman, Terry Norris, and Tim Brown.   Norris and Brown won the heats
     Cale Martin led the 4 cylinder event from the pole but Mike Lauffer caught up early.   The pair battled  side by side for several laps before Lauffer got by, but Martin  took over after  a restart on lap 9.   Lauffer fought back as Dave Lambert joined in one lap later.  Lambert also got by Martin in the three wide action but he fell short of the win.  At the finish it was Lauffer, Lambert, Steve Frederick, EJ Johnson and Martin.  Dan Jackson and Lauffer won the heats.
LATE MODEL 25 LAP  1   DJ Myers,  2 Jack Pencil,  3 Chuck Clise,  4 Matt Parks,  5 Cory Weaver,  6 Wayne Johnson,  7 Chris Harr,  8  Mitch Hack,  9 Andy Haus,  10  Matt Sponaugle,  11 DJ Troutman,  DNS  Frank Gordon,  Kirk Baker, Jeff Rine
LIMITED 20 LAP  1  Robby Black,  2 Tim Smith,  3 Ralph Morgan,  3 Mike Altobelli Jr,  4 Matt Howsare,  6  Travis Stickley,  7 Nathan Lasalle,  8 Jos Berrier,  9  Travis Calhoun,  10 Devin Frey,  11 Dave wwller,  12  Craig Perigo,  13 Matt Eckman,  14Dave Leidy,  15 Ron Bottenfield,  16 rance Garlock,  DNS  Jesse Snyder
SEMI LATE 15  1  Bill Henney,  2 Bob Jay,  3 Darryl Whetstone,  4 Zane Weicht,  5 Chris Chamberlain,  6 Don Wyles,  7 Ryan Beckett,  8 Justin Bonnett,  9  Kerry Molovich,  10 Ray Sheetz,  11 Jophn Whitfield,  12  Cody Butterbaugh,  13  Travis Brown, DNS  Randy Wolfe
PURE STOCK 12  1  Travis Group,  2 Bill Replogle,  3 Rt  Troutman,  3 Terry Norris,  5 Tim Brown,  6 Brad Feight,  7 Denny Norris,  8 Rob Varner,  9  Adam Daniels,  Chad Gambol.  13 Bill Kennell
4 CYLINDER 12 LP  1  Mike Lauffer,  2 Dave Lambert,  3 Steve Fredrick,  4 EJ Johnson,  5 Cale Martin,  6 Ron Valentine,  7 Phil Best,  8 John Diehl.  9  Tyler Beckett,  10  Matt Diehl,  11 Garrett Watkins,  12 Dan Jackson,  13 Irv Fleegle,  14  Tyler Defibaugh,