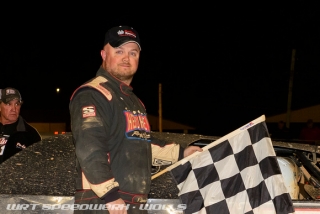 Matt Parks, who opened the season at Bedford  Speedway with a Sunday win, returned to do it again in the first Friday night event at the track.  Counting a last season win at Thunder Valley, this was his third consecutive Joe Padula feature win hat.  In other action,  Dave Leidy scored his first ever Bedford win  in Limited action, Bob Jay held off a late race charge in Semi Late action, Terry Norris went pole to pole in the Pure Stock event,  and Cale Martin won the 4 Cylinder finale.  The new Economods ran their first event with Craig Perigo the victor.
Matt Parks started sixth in the Late Model 25 lapper and pretty much stayed there through the early laps as Justin Kann led.  Kann held early pursuers including DJ Troutman  and Chuck Clise at bay while Parks remained in the pack.  With most of the front runners filling the bottom groove, Parks moved up to the top around lap five and went forward.  He got by Troutman  and Clise on lap 12 for second, just before a caution waved for Chris Harr.  
On the restart, Parks pounced on Kann and zipped by for the lead on lap 15, just as Kann spun to bring out the caution.  Once in front, Parks ran off from the field over the last 10 laps to win by over a full straight ahead of Troutman.   Matt Cosner rallied to take and hold third at the line ahead of Gene Knaub and Jeff Rine, who came from 14th to take fifth.  Jim Yoder,  Mike Lupfer, Andy Haus, Steve Campbell and Dylan Yoder completed the top 10.  Troutman, Cosner and Clise won the heats.
Mike Duck led the opening Limited lap, but Robby Black took over on lap two.   Black appeared enroute to the win as he moved way ahead of the battle for second among Duck, Dave Leidy and Rick Singleton.  Blacks mount began to sound sick but he stretched his lead with every passing lap until it exploded on lap 10.  A yellow thrown for the smoke cloud and fluid on the track found Leidy the new leader.
Once in front Leidy ran off from the field to score his historic win.  Singleton moved into second late but could not close on the winner.  Perigo, Curtis Heath and Eric Irvin completed the top five.  Tim Smith, Ralph Morgan, Nathan Lasalle, Matt Eckman and Scott Daniels  filled the top ten.  Leidy, Ron Bottenfield and Duck won the heats.
George Beckett was the early Semi Late leader but Bob Jay worked himself into position on the outside groove and finally got to the front on lap 8.  He got by Beckett just before Beckett spun on lap 11 and then held off a furious late race charge from Chris Chamberlain for the win.Jesse Snyder came from ninth to third at the end ahead of Kerry Molovich, Lou Wannyn and Ryan Beckett.  Chamberlain and Jay won the heats.
Six Economodifieds  were on hand for the debut of the new class.  Craig Perigo took the early lead and dominated their 12 lap event.  He was trailed by Tony Daniels, Craig Ramich, and Brandon Lasalle.
 Terry Norris was the pole sitter and early leader in the Pure Stock event.  He held sway as the battle for second raged.   Bill Replogle took second on lap 10 and closed on Norris but could not make a move over the last two laps.  Replogle was second, ahead of Travis Group, Jarrod Brown and Tim Brown.  Group and Jarrod Brown won the heats.
Cale Martin started fourth but had the initial 4 Cylinder lead on lap one.  He held off a furious charge from Casey Fleegle until Fleegle banked off the wall on lap 8 and fell back.  From that point on Martin stretched out for an easy victory over the field.  Fleegle held on for second, ahead of Andrew Pluta, Pat Breahm and Dustin Drake.  Fleegle, Breahm and Ian Will won the heats
LATE MODEL 25 LAP  1  Matt Parks,  DJ Troutman,  Matt Cosner,  Gene Knaub,  Jeff Rine,  Jim Yoder,  Mike Lupfer,  Andy Haus,  Steve Campbell,  Dylan Yoder,  Rance Garlock,  Eric Zembower,  Matt Sponaugle,  Cory Weaver,  Chad Hollenbeck,  Randy Burkholder,  Wayne Johnson,  Chad Walter,  Barry Miller,  Travis Cottle,  Justin Kann,  Chuck Clise,  Ron Shultz, Chris Harr, Mike Altobelli Jr  DNS  Tom Decker III
LIMITED 18 LAPS  1  Dave Leidy,  Rick Singleton,  Craig Perigo,  Curtis Heath,  Eric Irvin,  Tim Smith,  Ralph Morgan,  Nathan Lasalle,  Matt Eckman,  Scott Daniels,  Ron Bottenfield,  Josh Berrier,  Bob Foote,  Larry Foor,  Dale Claycomb,  Mike Duck,  Brian Lessley,  Robby Black,  DNS  Andrew Stotler, Brad Karns
SEMI LATE 15 LAPS  1  Bob Jay, Chris Chamberlain,  Jesse Snyder,  Kerry Molovich,  Lou Wannyn,  Ryan Beckett,  Matt Krause,  Chris Cogan,  George Beckett, Mike Lauffer,  Tom Wakefield.
ECONOMODIFIED 12 LAPS  1  Craig Perigo,  Tony Daniels,  Craig Ramich,  Brandon Lasalle, John Whitfield, Adam Daniels.
PURE STOCL 12 LAPS  1  Terry Norris,  Bill Replogle,  Travis Group,  Jarrod Brown,  Tim Brown,  Mike Ott,  Willy Ling,  Kyle Beckett,  Ed Vogel.  Bill Kennell,  RT Troutman,  Rod Mock,  Mike Bowser,  Trent Clark,.  Charlie Walter,  Dave Riley,  Dave Lambert,  Dakota Foor,  Brad Feight,  DNS  Justin Michael, Jimmy Moreland
4 CYLINDER 12 LAPS 1   Cale Martin,  Casey Fleegle,  Andrew Pluta,  Pat Breahm,  Dustin Drake,  Matt Diehl,   Robert Pluta,  Ron Valentine,  EJ Johnson,  Garrett Watkins,  Nick Zborovancik,  Ian Will,  Steve Frederick,  Bailey Johnson,  Jake Griffith,  John Diehl,  Wayne Brenize,  Jeff Vasos,   DNS  Jordan Helsel,  Phil Best,  Mike Morringer, Brandon Conrad.