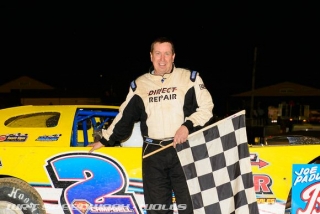 After years of on and off trying, Steve Campbell  scored his first ever Bedford Speedway Late Model win Friday night.  With his trip to the Bedford winners stage, he became the 127th different Late Model winner at the historic track.  Tim Smith wired the field for his first Limited win in two years while Justin Michael also ended a long dry spell in Pure Stock action.  Bob Jay added yet another Semi Late win to his record and. Deanna Groves went two in a row in Economodified action, before Casey Fleegle  stopped the Cale Martin win streak in the 4 Cylinder finale.
     It took two tries to get the Late Model event underway after Chris Harr took a wild spin on the frontstretch at the start.  On the second try, Campbell took the lead from the outside front row and checked out on the field.  Chad Hollenbeck, making his best career Bedford run, chased the leader but could not close.  Action was slowed on lap 6 as a four car pileup occurred in turn four.  That crash eliminated both Justin Kann and Matt Parks, early season winners, and forced DJ Troutman into several pit stops for repairs.
     On the restart, Campbell again got away but Hollenbeck had his hands full of a charging Matt Sponaugle. Lap after lap Sponaugle was all over Hollenbeck before finally getting by on a lap 20 restart.  Sponaugle made a move in closing on Campbell but soon found himself occupied as Hollenbeck fought back.  Hollenbeck retook the spot on the white flag lap as Campbell slipped away.  Hollenbeck took second back on the white flag lap, but at the wire, Sponaugle took it back in a close finish.
    Behind Campbell, Sponaugle and Hollenbeck at the finish, Jeff Rine and Chuck Clise completed the top five.  Matt Cosner, Mike Altobelli Jr, Eric Zembower, Cory Weaver and Alan Sagi completed the top 10.  Rine, Campbell and Parks won the heats.
    Tim Smith started on the Limited pole and wired the field in that 18 lap affair.  Dave Leidy came from 5th starting spot to make it close at the end, closing as Smith tip toed through late race lapped traffic, but settled for second at the finish. Craig Perigo, Robby Black and Chaz Walls completed the top five.  Leidy and Smith won the heats.
    Bob Jay started deep in the Semi Late field and climbed forward as the Beckett family led early.  George Beckett led  Ryan early but Jay joined the crowd by lap four.    Jay took Ryan on lap 5 and got by George one lap later.  From that point Jay was in control as Beckett held off Kerry Molovich for the duration.   At the finish it was Jay, Ryan Beckett, Molovich, Matt Krause and Chris Chamberlain.  Jesse Snyder and Ryan Beckett won the heats.
    Justin Michael prevailed in the Pure Stock event, the best race of the night.  Michael led at the start but it was a 8 car pack at the front for almost the duration.  Terry Norris got by Michael on lap 5 but led only that lap as Michael fought back. Dave Riley chased Michael, actually getting alongside several times, and Bill Replogle, Charlie Walter and Jarrod Brown came from the pack to add to the action.  Lap after lap the mob went at it before Michael prevailed for the win.
   At the finish it was Michael, Dave Riley, Replogle, Walter and Brown.  Norris, RT Troutman, Tim Brown, Travis Group and Dave Lambert completed the top 10.  Replogle and Norris won the heats.
  Deanna Groves liked her successful first visit to the Bedford stage so much that she returned for another.  in Economodified action. She chased early leader Vic Vandergrift early until he dropped out at lap six, then ran off from the field for the win.  Craig Ramich ran second ahead of Brandon Lasalle and Justin Milburn who crashed together at the finish line.
     Jeff Vasos led the first 4 Cylinder lap,  Dustin Drake led the second lap  but Casey Fleegle led the third lap and all the others.  He held off a serious race long challenge from Jarrod Barclay for the win.  They were followed by Ron Valentine, Cale Martin, who had a three race win streak going, and Keith Deeter.  Drake, Andrew Pluta and Fleegle won the heats.
LATE MODEL 25 LAPS  1   Steve Campbell,  Matt Sponaugle, Chad Hollenbeck,  Jeff Rine,  Chuck Clise,  Matt Cosner,  Mike Altobelli Jr,  Eric Zembower,  Cory Weaver,  Alan Sagi,  Chris Harr,  Wayne Johnson,  Rance Garlock,  Chad Walter,  Travis Cottle,  Matt Parks,  Justin Kann,  DJ Troutman,  Tom Decker Jr  DNS  Tom Decker III
LIMITED 18 LAP  1  Tim Smith,  Dave Leidy,  Craig Perigo,  Robby Black,  Chaz Walls,  Donnie Farlling,  Curtis Heath,  Ron Bottenfield,  Travis Calhoun,  Randy Wible,  Matt Eckman,  Dale Claycomb,  Nathan Lasalle,  DNS  Kyle Lee.
SEMI LATE 15 LAP  1  Bob Jay,  Ryan Beckett,  Kerry Molovich,  Matt Krause,  Chris Chamberlain,  Dave Whetstone,  Jesse Snyder,  Taylor Farlling,  Dan Farlling, George Beckett,   DNS  Scott Grubb, Justin Bonnett
ECONOMODIFIED 15 LAP  1  Deanna Groves, Craig Ramich,  Brandon Lasalle,  Justin Milburn, Viv Vandergrift, Adam Daniels.
PURE STOCKS 15 LAP  1  Justin  Michael,  Dave Riley,  Bill Replogle,  Charlie Walter,  Jarod Brown,  Terry Norris,  RT Troutman,  Tim Brown,  Travis Group,  Dave Lambert,  Jim Sacco,  Kyle Beckett,  Kaddon Smith, Dakota Foor,  Mike Ott,  Brad Feight,  Ed Vogel  DNS  Greg Beckett.  Jim Moreland, Brian Ringer
4 CYLINDER 12 LAP  1  Casey Fleegle,  Jarrod Barclay,  Ron Valentine,  Cale Martin,  Keith Deeter,  Matt Diehl,  Robert Pluta,  E J Johnson,  Wayne Brenise,  John Diehl.  Nick Zborovancik,  Mike Meck,  Bailey Johnson,  Nathan Altobelli,  Ryan Peer,  Steve Frederick,   Mike Merringer,  Jordam Helsel,  Anrew Pluta,  Dustin Drake,  Nick Isky,  Jeff Vasos,  Brandon Conrad,  DQ  Garrett Watkins.