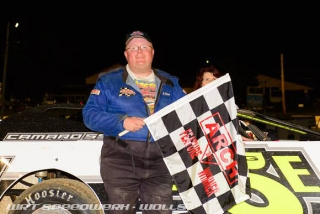 Surviving a furious last lap charge from Jeff Rine, Chuck Clise held on to score the Late Model win Friday night at Bedford.  It was Clise's first win of the season.  Robbie Black rallied late to deprive young Kyle Lee of a win in the Limited event while Ed Vogel took his first ever Pure Stock feature.  The other two classes were family affairs as the Taylor brothers were first and third with Jonathan ahead in modified action, and the Pluta twins swept the 4 Cylinder finale.
     Corey weaver was the Late Model pole sitter but Chuck Clise was the leader from the start.  Steve Campbell gave merry chase but could not make a move on Clise.   The battle was in the pack as Matt Sponaugle and DJ Troutman fought hard for sixth place.  After trading that spot several times, both were eliminated in a hard crash in turn three on  lap 8.  Jeff Rine who had eluded the crashing cars, lined up fourth on the restart and  seemed to have renewed vigor.
    On what would be the only restart in the race,  Rine zipped Weaver for third and set out after Campbell.  When he secured the second spot on lap 14,  Clise was a distance ahead,  but Rine began closing.
  As the laps  clicked off, Rine closed and closed until making the big move on the last lap.   Rine deep charged  into turn one around the outside of Clise and inched ahead.  Clise fought back coming onto the back stretch and fought off  Rine's advances to score the popular win.
    Behind Clise and Rine at the finish were Campbell, Matt Parks, Weaver and Wayne Johnson.   Campbell and Troutman won the heats.
     Young Kyle Lee looked to be enroute to his first ever Limited victory as he led that event early.  Robby Black, who started eighth in the field  crawled forward from the start and appeared in  second by lap 5.  Several cautions slowed the field but Lee scooted away each time.  But a long 8 lap green flag run was to be Lee's undoing as Black whipped by on lap 12 and ran off.
      Lee soon found himself holding off Dave Leidy for second,  a battle that went on to the finish.   Black ran off to a comfortable win as Lee held off Leidy for second at the line,  They were trailed by Craig Perigo,  Donnie Farrling and  Nathan Lasalle.  Perigo and Black won the heats.
    Jonathan Taylor went pole to pole in the Economodified event.  It was almost a brother act at the front as previous winner Evan Taylor came through the field  but Deanna Groves intervened.  As Jonathan led easily, Groves and Evan battled in his wake along with Adam Daniels for the duration.  At the finish it was Jonathan, , Deanna Groves, Evan, Daniels and Brandon Lasalle.
      The Pure Stocks, moved up to the first feature of the program in the absence of the Semi Lates  for the evening responded with a straight through event  and a great race.  Ed Vogel responded with 12 perfect laps as he held off Travis Group for the distance.  While Group and Dave Riley came from the pack to chase Vogel,  the next six cars ran in a pack with positions changing every lap.
      At the finish, Vogel narrowly held off Group with Riley close behind.  Behind them Davey Lambert, Charlie Walter, Bill Replogle Kyle Beckett, Reed Stickel and Jarrod Brown trailed.  Riley and Group won the heats.
    Ryan Peer led the first nine laps of the 4 Cylinder finale, but when his car faltered on a restart, both Plutas shot by .  Over the last three laps, Robert Pluta held off twin Andrew Pluta for the win.,  Cale Martin and Nick Zborovancik came from the pack to take the next two spots ahead of Peer  and Pat Breahm.  Peer and Martin won the heats.
LATE MODEL 25 LAP  1   Cluck Clise,  Jeff Rine,  Steve Campbell,  Matt Parks,  Corey Weaver,  Wayne Johnson.,  Eric Zembower,  Matt Cosner,  Matt Sponaugle,  DJ Troutman,  Mike Altobelli Jr,  DNS  Rance Garlock, Alicia Fox.
LIMITED 18 LAPS  1  Robby Black,  Kyle Lee,  Dave Leidy,  Craig Perigo,  Donnie Farlling,  Nathan Lasalle,  Travis Calhoun,  Ron Bottenfield,  Travis Cottle,  Larry Foor,  Matt Eckman,  Tim Smith,  Dion Lasalle,  Curtis Heath,  Dale Claycomb,
ECONOMODIFIED  12 LAPS  1  Jonathan Taylor,  Deanna Groves,  Evan Taylor,  Tony Daniels, Brandon Lasalle,  Adam Daniels,  Justin Milburn,  Adam Taylor
PURE STOCK 12 LAP  1  Ed Vogel,  Travis Group,  Dave Riley,  Dave Laambert,  Charlie Walter,  Bill Replogle,  Ryan Beckett,  Reed Stickel,  Jarrod Brown,  Brad Feight.  Mike Ott,  Mike Bowser,  Greg Beckett,  Trent Clark,  DNS  Kaddon Smith,  Justin Michael.
4 CYLINDER  12 LAP  1  Robert Pluta,  Andrew Pluta,  Cale Martin,  Nick Zborovancik,  Ryan Peer,  Pat Breahm,  Matt Diehl,  Bailey Johnson,  Mike Meck,  Steve Frederick,  Wayne Brenise,  John Diehl,  Nathan Altobelli,  Jordan Helsel,  Jeff Vasos,  EJ Johnson,  Brandon Conrad,  Garrett watkins