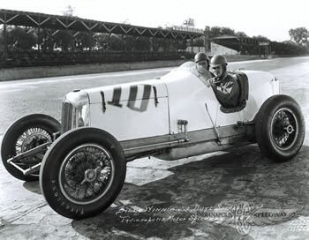 This Fridays nights race program is dedicated to the memory of Billy Winn, one of the most famous racers of the 1930's and the winner of the first race at the Bedford Speedway on September 4
th
1936. Since that first AAA Sanctioned event, the speedway has been in nearly continuous operation for the past 77 seasons. Bedford is the oldest currently operation track in Pennsylvania, and one of the oldest in the country.
James Murdock "Billy" Winn (1909–1938) was born in Kansas City Missouri on August 27th 1909. By the early 1930's Mr. Winn had risen to prominence on the big dirt and board tracks on the east. Eventually racing primarily in AAA National Championship events, he was dubbed "The Red Devil" because of his trademark flaming red helmet and shirt he raced in. Mr. Winn is credited with AAA Championship wins at the big tracks at Springfield Illinois, Syracuse New York and Milwaukee Wisconsin, among others between 1934 and 1937. Mr. Winn competed in the Indianapolis 500 8 times during this period, with a best finish of 9th driving a Duesenberg in 1932.
Outstanding was Winn's performance in the famous Long Island Vanderbilt Cup events. After qualifying second in 1936, he nearly won before his race ended with mechanical failure. Returning in 1937 he again was a top contender before mechanical woes again sidelined him. The Vanderbilt Cup had long been dominated by the powerful European automakers, and Mr. Winn's fantastic showing was a source of great pride for the American teams in the International event.
He married the famous and wealthy socialite Helene Yockey in 1935. Yockey had previously been married to Mr. Winn's good friend Joe Russo who was killed in a racing accident in 1934. While married to Russo, the couple had purchased two cemetery plots in Detroit for future use. After Russo's death, Yockey married his good friend Winn. After only a few short years of marriage Winn was also killed, forcing the twice widowed Yockey to bury her second husband in the plot next to her first husband. Thus the two racing friends are now buried together in Detroit's Mt Olivet Cemetery.
Mr. Winn was killed on August 20th 1938 in a racing accident during the 100 mile event at the Springfield Mile. As a testament to his accomplishments as a racing pioneer, Mr. Winn was inducted into the National Sprint Car Hall of Fame in Knoxville Iowa in 2003.
Additional information about the life and career of Billy Winn can be found at the National Sprint Car Hall of Fame Museum webpage: http://sprintcarhof.com/Pages/Inductees