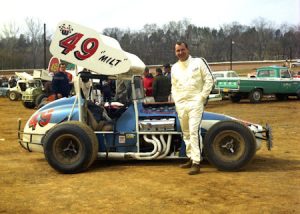 Bedford Speedway will be quiet this Friday June 23rd, for our annual summer break. Racing will return next Friday June 30th, kicking off a big doubleheader weekend of racing action.
Friday nights racing program will be highlighted by the annual Milt Miller Tribute for the Late Models, who will be joined by the Modifieds, Semi Lates and Four Cylinders. The Late Models will be racing 35 laps with $3500 going to the winner.
Friday night will be the first night of the July 4th weekend tour for the Late Models, with events continuing Saturday night at Virginia's Winchester Speedway, Sunday (July 2nd) at Delaware's Georgetown Speedway, before concluding Monday night (July 3rd) at Maryland's Potomac Speedway. Points will be tallied for each event, with a point fund distributed to the Late Models after the weekend tour.

Racing will resume on Sunday July 2nd with the Pure Stocks taking the stage for what has become their biggest event of the year, the third annual 42 lap Charlie Walter Tribute. The evening will pay honor the memory of the multi time track champion who tragically passed away in 2014. The Pure Stocks will be racing for a greatly increased purse in appreciation of their support this year.
Sunday night will also feature debut of the Mason-Dixon Shootout for the Late Model Sportsman, who will be running a 25 lap feature for $1000 to win. Also in racing action Sunday night will be the Racesaver Sprints, Four Cylinders and Penn Mar Vintage Cars.
Friday night June 30th the gates will open at 5:00 with warmups at 7:00 and racing at 7:30. General Admission will be $20, with kids 12 and under free and pit admission $30.
Sunday night July 2nd the gates will open at 4:00 with warmups at 6:00 and racing at 6:30. General Admission will be $10, with kids 12 and under free and pit admission $25.
Bedford Speedway hosted its first auto race on September 5th 1936, with Depression-era star Billy Winn taking the win. Over the past 81 years the track has hosted some of the greatest names in racing history. The track is located at the intersection of I-99 & US 30, with easy access from PA Turnpike exit 146, just blocks from beautiful downtown Bedford PA.
Information about the speedway is available at bedfordspeedway.com, as well as Facebook or Twitter or by calling the track hotline at 814-623-0500.