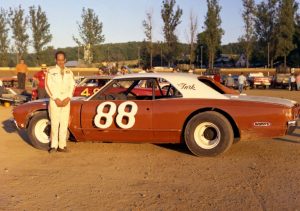 This Friday night, May 25th, the Bedford Speedway will honor the memories of two of this area's greatest drivers, Johnny Grum & Turk Burket.
The special event will feature the Late Models, Modifieds & Pure Stocks each racing in a 35 lap feature event. The Late Model 35 lap feature will pay $3000 to the winner while the Modified feature pays the winner $1000 and the Pure Stock winner will take home $400.
All drivers will draw a pill for heat starting position. Each of the three 35 lap features will utilize passing points from the heat races to determine the feature lineup.
Friday night gates open at 5:00 with warmups at 7:00 and racing at 7:30. General admission is $20, with kids 12 and under free. Pit admission is $30.
Bedford will return to action on Sunday, May 27th as part of the big Memorial Day Doubleheader. Sunday night will welcome the Mason- Dixon Late Model Sportsman Series, for a 25 lap $1000 to win feature with the Sportsman running topless.
Also in action Sunday will be the Racesaver Sprints, Semi Lates, Four Cylinders and the Penn Mar Vintage Car Club.
Sunday gates open at 4:00, with warmups at 6:00 and racing at 6:30. General admission is $10, with kids 12 and under free. Pit admission is $30.
FRIDAY PURSES:
Late Model- 35 laps- $3000, 1400, 1000, 900,800, 700, 600, 550, 525, 500, 475, 450, 425, 400, 375, 350, 340, 330, 320, 310, 300, 300, 300, 300, 300
Modified- 35 laps- $1000, 475, 350, 275, 225, 175, 150, 140, 130, 120, 115, 110, 105, 100, 95, 90, 85, 80, 80, 80, 80, 80, 80, 80
Pure Stock- 35 laps- $400, 225, 150, 125, 100, 90, 85, 80, 75, 70, 60, 60, 60, 60, 60, 55, 55, 55, 55, 55, 50, 50, 50, 50, 50
Photo of Turk Burket by John Pittman