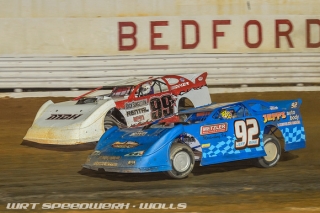 Rick Singleton made his 2012 debut a winning one with victory in the 25 lap event Friday night at the Bedford Speedway.  Singleton, who has flirted between the Late Model and Limited fields for years,  waxed the field  of heavy hitters with his steel block 358 car Limited legal.  In other action, DJ Troutman took the 20 lap Limited event with a dominating performance while  60 year old Darryl Whetstone won the Semi Late race . Charlie Walter  took the Pure Stock event after a wild first lap pileup wiped out much of the field before Dan Jackson was credited with the  4 Cylinder win after a grinding crash ended the festivities at only 8 laps
Singleton won the pole in the pre race draw and didnt waste his opportunity.  He shot by Andy Haus at the start and ran off from the field.  Scott Haus jumped in to second on the second lap and was soon joined by Jeff Rine in third  but Singleton was pulling away.    Haus and Rine battled  hard until Haus brought out the first caution on lap 16 by drifting to a halt in turn 4. The yellow closed the field and Rine made a bold move on the restart actually moving ahead. But Singleton regained his rythm and again moved away.
Jack Pencil arrived on Rines bumper as the laps wore down but was unable to effect a pass.  At the finish it was Ssingleton  easily over Rine and Pencil.   Jerry Bard was fourth followed by Chad Hollenbeck, Matt Parks, Justin Kann,  Greg Fetters , Ron Delano and Eric Zembower.  Scott Haus and Hollenbeck won the heats.
Much like the Late Model event,  DJ Troutman started  on the pole and ran off from the Limited field.   With the only yellow appearing for a minor incident at the halfway point,  Troutman created a huge lead  twice.  Brian Duffy ran second and they both pulled off  to a huge margin over the field at the finish.   Duffy took second but was light on the scale,  moving Craig Perigo to that spot and crediting Troutman with even a larger margin of victory.  Mike Altobelli Jr, Dave Leidy, Matt HowsareDon Farlling, Tim SmithBrian Lessley, Jesse Snyder and Travis Stickley trailed.  Rance Garlock and Howsare won the heats.
Darryl Whetstone went pole to pole in the Semi Late event,  although he had to hold off a late race charge from Chris Chamberlain.  Chamberlain had started  fifth in the field and ran Whetstone down . A yellow with two laps to go gave Chamberlain a final shot but Whetstone held to the finish.  Chamberlain was second ahead of John Whitfield, Zane Weicht and Bob Jay.  Chamberlain and Jay won the heats
Action started early in the Pure Stock event.  A huge pileup in the first turn  on the first lap decimated the field and took a half hour to clean up.   It began when the field piled up and Rob Varner began a series of wild flips.  It ended with Varner on his side and the car of Lou Wannyn on top of him, with  a total of 10 cars involved.
On the restart, Michael Ott  had the lead but it was a six car pack at the front.  Ott held off alternately Charlie Walter and Chad Gambol until they both got by on lap 9.   After that Walter held on for the win.  Ganbol was second at the line followed closely by Tim Brown,  Mike Norris,  Ott Ed Vogel and Bill Kennell.  Norris and Travis Group won the heats
 The 4 Cylinders also provided action in their event.  Promoter Padula elected to let all 31 cars on hand start the feature and they  filled the track.  Mike Lauffer was the early leader and he held off a mob until a wheel flew off on  lap 6.  Casey Fleegle took over but Dan Jackson led the next lap.  On lap 8 tho a grinding crash in turn two stopped things as Andrew Pluta had to be cut from his car.   At that point with the delay involved in accident cleanup and the hour, it was decided to end the event at 8 laps with Jackson the winner.  Fleegle was credited with second, ahead of Nathan Kamisky, Dave Lambert and Robert Pluta.  Andrew Pluta, Robert Pluta and Fleegle won the heats
LATE MODEL 25 LAP  1  Rick Singleton,  2 Jeff Rine,  3 Jack Pencil,  4 Jerry Bard ,  5 Chad Hollenbeck,  6 Matt Parks,  7 Justin Kann,  8 Greg Fetters,  9 Ron Delano,  10  Eric Zembower,  11 Matt Sponaugle,  12 Cory Weaver,  13 Andy Haus,  14 Masopn Ziegler,  15  Scott Haus,  16 Wayne Johnson,  17 Chuck Clise
LIMITED 20 LAP  1 DJ Troutman,  2 Craig Perigo,  3 Mike Altobelli Jr,  4 Dave Leidy,  5 Matt Howsare,  6 Don Farlling,  7 Tim Smith,  8 Brian Lessley,  9 Jesse Snyder,  10 Travis Stickley,  11 Eric Irvin,  12 Ron Bottenfield,  13 Ralph Morgan,  14 Rance Garlock,  15 Travis Calhoun,  16 Robby Black,  17  Josh Berrier,  18 Jason Hess  19  Nathan Lasalle,  20  DQ  Brian Duffly
SEMI LATE 15 LAP  1  Darryl Whetstone,  2 Chris Chamberlain,  3 John Whitfield,  4 Zane Weicht,  5 Bob Jay,  6  Kerry Molovich,  7 Cody Butterbaugh,  8 Tim Wyles,  9 Taylor Farlling,  10 Joe Means,  DNS  Rick Potter, George Beckett
PURE STOCK  12 lap   1   Charlie Walter2  Chad Gambol,  3 Tim Brown,  4 Mike Norris,  5 Mike Ott,  6 Ed Vogel,  7 Bill Kennell,  8 Dan Wratchford,  9 Mark Field,  10 Justin Michael,  11 Travis Group,  12 Rob Varner,  13 Lou Wannyn,  14 Brad Feight,  15 Jim Dearmitt,  16 Terry Norris,  DNS  Bill Replogle.
4 CYLINDER 8 LAP  1  Dan Jackson,  2 Travis Fleegle,  3 Nathan Kamitsky,   4 Dave Lambert,  5 Ron Valentine,  6 Ray Wright,  7 Mike Phillipson,  8      Rhodes  9  Steve Frederick,  10  Steve Batcher,  11 RTyler Beckett,  12 Josh Datko,    13  Robert Pluta,  14  Irv Fleegle,  15  Matt Diehl,  16  Wilbert Barker  17 John Diehl.  18 Andrew Pluta,  19  Lonnie Snyder,  20  Jim Best  21  Mike Lauffer,  22 Eric Johnston,  23  Garrett Watkins,  24  Derek Graybill,  25  Jeff Areq  26  Juan Ryan,  27 Mikhael Hall,  28 Ryan Norris  DNS  Dustin Drake,   Mitch Blazak,  Cale Martin