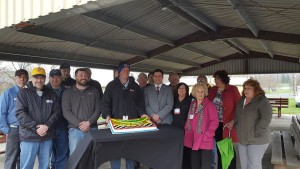 While the cold and wintry weather last weekend prevented any on track racing action, western PA's Bedford Speedway was able to hold a celebration honoring the 80th anniversary of the opening of the speedway. The Bedford County Chamber of Commerce hosted a ceremony at the track last Thursday afternoon celebrating 80 years of racing. In attendance were representatives of the speedway, the Bedford Fair Association, owners of the speedway, local dignitaries including Bedford County Commissioners Josh Lang and Paul Crooks as well as numerous well-wishers. Bedford drivers Eric Zembower, Brandon LaSalle, and Wayne Dadetto graciously provided their racecars for display. Track promoter Joe Padula had the honor of cutting the ceremonial 80th anniversary cake to kick off the celebration.
Built in 1936 the first race at the track was held on September 5th 1936, which was won by depression era racing star Billy Winn. Since that time the speedway has been in nearly continuous operation becoming the oldest active speedway in Pennsylvania and one of the oldest in the country. Bedford currently hosts racing every Friday night, with special Sunday and holiday shows thrown in during the summer.
The Speedway "is part of the fabric of the sports and community industry of Bedford" said Kellie Goodman Shaffer, president of the Chamber of Commerce. "It also has a huge economic impact and it has been an important part of our heritage. It's something special when you hear those race cars on Friday nights."
In addition to celebrating the speedway's 80th anniversary, promoter Joe Padula will be marking his fifth year overseeing the track. Padula discussed the importance of the tracks history, and the pride of everyone involved in working at the track. Looking forward Padula said he planned to be promoting the track "at least until its 100th anniversary".
The Bedford season will kick off this Friday night with a five division show scheduled for opening night. In action will be the Late Models, Late Model Sportsman, Modifieds, Semi Lates and Four Cylinders. The track will also be in action on Sunday night with the first visit of the season by Tony Stewart's Artic Cat All Star Circuit of Champions Sprints. The Sprints will be joined Sunday night by the Pure Stocks and Four Cylinders. For more information on Bedford racing please check the speedway website www.bedfordspeedway.com.