(from Lucasdirt.com)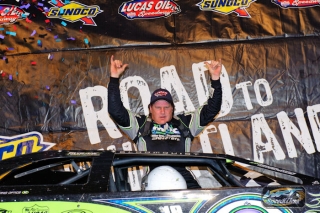 BEDFORD, PA (April 29, 2011) Scott Bloomquist of Mooresburg, TN continued his streak on Friday Night as he captured his third consecutive Lucas Oil Late Model Dirt Series event in a row at Bedford Speedway. Bloomquist dominated the event, lapping up to the ninth place finisher. Steve Shaver of Vienna, WV was second followed by Jimmy Owens of Newport, TN; Don O'Neal of Martinsville, IN; and Ray Cook of Brasstown, NC.
Bloomquist and Shaver started on the front row of the 50-lap $10,000 to win main event. Bloomquist bolted to the lead from the start. He held a six-car length lead over Shaver in the first five laps of the race. Bloomquist started to pick-up the tail-end of the field by lap ten, and had distanced himself further from the battle for the second spot between Shaver and Owens. The first and only caution of the race appeared on lap 16 for a slowing Chris Wall on the backstretch. On the restart, Bloomquist continued his dominating performance as he pulled away from the hotly contested race for second between Shaver and Owens.
With Bloomquist well out in front, Owens briefly took the second spot away from Shaver in turn two on lap 41, but by the time the cars had reached the official scoring line Shaver was back in second. Shaver then pulled away from Owens in the final laps to secure the runner-up spot in the K&L Rumley Rocket Chassis entry. Owens then had to fight off O'Neal to place third in the Reece Monument Company, Bloomquist Race Cars Ford. O'Neal in the Magnaflow Exhaust MasterSbilt Chevrolet placed fourth followed at the stripe by Cook in the D&R Racing, MasterSbilt #53.
In Lucas Oil Late Model Dirt Series Victory Lane for the fourth time this season, and the 30th time in his career, Bloomquist stated "The car was good from the time we unloaded it tonight, in the heat race it was good, and in the feature you could run anywhere on the track, you could go three wide out there without any problems, I have to thank Lucas Oil, we've been running their oil all year, Roush-Yates Engines, we had the Ford in tonight, and also a big thanks to Base Racing Fuels, and Bob and Barb Miller, for their continued support." Completing the top ten were Jeremy Miller of Gettysburg, PA; Steve Francis of Ashland, KY; Jason Covert of York Haven, PA; Jared Landers of Batesville, AR; and Dale McDowell of Chickamauga, GA.
In preliminary action Bloomquist blistered his track record which stood for two years. Bloomquist became the first driver in the 75-year history of the track to go under 19 seconds as he recorded a fast lap of 18.763 seconds shattering his track record of 19.346. Heat races were won by Scott Bloomquist, Coleby Frye, Steve Shaver, and Jimmy Owens. The consolation races were won by John Blankenship and Tyler Reddick.
In Street Stock action, Brian Duffy claimed his first win of the season and his 21st of his career. Kerry Molovich led convincingly for the first six laps as the rest of the field provided side by side action. Duffy, who started 4th, overpowered Molovich and won with ease. Following Duffy at the checkered was Jesse Snyder, Chris Chamberlain, Bill Henney, and Bob Jay. Duffy and Henney won the heat events.
Next week at the speedway will be a regular five division show consisting of Super Late Models, Limited Late Models, Street Stocks, Hobby Stocks, and 4 Cylinders. Drivers will be giving kids car rides around the speedway before hot laps.
Lucas
Oil Late Model Dirt Series
Race Summary
Friday Night, April
9th, 2011
Bedford Valley Petroleum
50
Bedford Speedway –
Bedford, PA
Red Buck Cigars Fast
Time:
Scott Bloomquist/ 18.763
seconds (Group A and Overall ***New Track Record***)
Steve Shaver / 19.026
seconds (Group B)
Wiles Driveshafts First
Heat (10 Laps- Top 4 Advance): Scott Bloomquist, Don O'Neal, Eric Wells, Jared
Landers, Ricky Elliott, Dylan Yoder, Dan Stone, Jeff Rine, Tim Isenberg, Billy
Decker, Jim Yoder
Wiles Driveshafts Second
Heat (10 Laps- Top 4 Advance): Coleby Frye, Steve Francis, Jason Covert, Dale
McDowell, Frank Heckensast Jr., John Blankenship, Steve Casebolt, Larry Wight,
Chad McClellan, Derek Byler
Sweet Manufacturing Third
Heat (10 Laps- Top 4 Advance): Steve Shaver, Bub McCool, Jeremy Miller, Jamie
Lathroum, Jack Pencil, Nick Dickson, Chuck Clise, Kenny PettyJohn, Brad Neat,
Tom Decker Jr.
HAWK Brakes Fourth Heat
(10 Laps- Top 4 Advance): Jimmy Owens, Ray Cook, Chris Wall, J.T. Spence, Tyler
Reddick, Gary Stuhler, Jerry Bard, Dennis Erb Jr., Earl Pearson Jr., Mike
Marlar
JRi Shocks First B-Main
(12 Laps- Top 3 Advance): John Blankenship, Frank Heckenast Jr., Daniel Stone,
Steve Casebolt, Jeff Rine, Tim Isenberg, Chad McClellan, Derek Byler, Larry
Wight, Dylan Yoder, Ricky Elliott, Billy Decker-DNS, Jim Yoder-DNS
Wrisco Aluminum Second
B-Main (12 Laps- Top 3 Advance): Tyler Reddick, Chuck Clise, Jerry Bard, Dennis
Erb Jr., Kenny PettyJohn, Gary Stuhler, Brad Neat, Tom Decker Jr., Nick Dickson,
Jack Pencil, Earl Pearson Jr., Mike Marlar-DNS
Feature Finish – 50
Laps
FINISH

START

CAR #

DRIVER
NAME

HOMETOWN

1

1

0

Scott
Bloomquist

Mooresburg,
TN

2

2

6

Steve
Shaver

Vienna,
WV

3

4

20

Jimmy
Owens

Newport,
TN

4

5

71

Don
O'Neal

Martinsville,
IN

5

8

53

Ray Cook

Brasstown,
NC

6

10

1m

Jeremy
Miller

Littlestown,
PA

7

7

15

Steve
Francis

Ashland,
KY

8

11

43a

Jason
Covert

York Haven,
PA

9

13

777

Jared
Landers

Batesville,
AR

10

15

17m

Dale
McDowell

Chickamauga,
GA

11

6

57J

Bub
McCool

Vicksburg,
MS

12

3

F1

Coleby
Frye

Dover,
PA

13

9

18e

Eric
Wells

Hazard,
KY

14

18

11t

Tyler
Reddick

Corning,
CA

15

17

23

John
Blankenship

Williamson,
WV

16

14

6L

Jamie
Lathroum

Mechanicsville,
MD

17

23

44

Earl Pearson,
Jr.

Jacksonville,
FL

18

19

99jr

Frank Heckenast,
Jr.

Frankfort,
IL

19

26

41n

Brad
Neat

Dunnville,
KY

20

20

5e

Chuck
Clise

Frostburg,
MD

21

24

28e

Dennis Erb,
Jr.

Carpentersville,
IL

22

22

26

Jerry
Bard

Shippensburg,
PA

23

16

91

J.T.
Spence

Winchester,
VA

24

21

21d

Daniel
Stone

Thompson,
PA

25

12

71w

Chris
Wall

Springfield,
LA

26

25

36

Mike
Marlar

Winfield,
TN
Race
Statistics
Entrants: 41
Lap Leaders: Scott
Bloomquist (Laps 1 – 50)
Caution Flags: Lap 16
(Chris Wall)
Lucas Oil Late Model Dirt
Series Provisionals: Earl Pearson Jr., Dennis Erb.
Lucas Oil Late Model Dirt
Series Emergency Provisionals: Mike Marlar, Brad Neat
PBM/Erson Cams Hard
Charger of the Race: Brad Neat (Started 26th; Finished
19th; Advanced 7 positions)
Allstar Performer of the
Race: Scott Bloomquist
K&N Filters Clean Pass of the Race: Ray
Cook
Quarter Master Rookie of
the Race: Jared Landers
COMP Cams Engine Builder
of the Race: Roush-Yates Race Engines
Outerwears Challenger of
the Race: Tyler Reddick
Dominator Race Products
Hard Luck Award: Mike Marlar
DirtonDirt.com Crew Chief
of the Race: Jeff Stroupe (Jared Landers)
Time of Race: 25 minutes 14 seconds