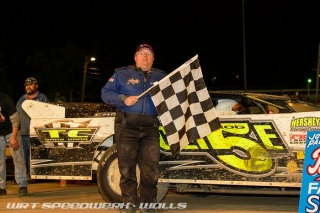 After years of trying, Chuck Clise roared to his first ever Late model feature win at Bedford Speedway Friday night.  In the Limited event, Josh Berrier duplicated that feat as he also scored his first career win at the track.   Chris Chamberlain came from deep in the field to claim another Semi Late win before Bill Replogle took the Pure Stock event.  Dan Jackson won his third 4 Cylinder race of the season to end the evening.
     After an early season of hard luck,  Chuck Clise finally was rewarded with an up front starting spot.  He responded  by jumping into the lead at the start and running off.  But after a few laps Greg Fetters had run Clise down and the race was on.  Lap after lap Fetters gave Clise all he could handle at the front but Clise repelled every challenge.   
      Behind the leaders,  Scott Lebarron and Brian Booze were charging through the field.  With only a single caution in the race  Lebarron moved  up from tenth to fourth by lap 10.   He got be Andy Haus for third with 5 to go bu could not close on the lead pair.  Booze closed on Haus  over the last few laps but his charge forward stopped at  fifth for the evening.
   At the finish, Clise won by a few lengths over Fetters, while Lebarron, Haus and Booze trailed.  Two time 2012 winner Jack Pencil led the second 5, followed by Matt Sponaugle, Scott Haus, Jeff Miller and Cory Weaver.  DJ Troutman  and Booze won the heats.
    Josh Berrier went pole to pole in his first ever triumphant run.  He took the lead from Travis Calhoun at the start and  held off a charge from Mike Altobelli late for the win.  Altobelli and Tim Smith had started deep in the field and ran Berrier down late before Berrier held on for the win.  At the finish, it was Berrier, Altobelli, Smith and Robby Black who closed in on everyone in the closing laps.   Jesse Snyder, Donnie Farlling, Brian Lessley, Brian Duffy, Nathan Lasalle and Calhoun completed the top 10.  Black and Lessley won the heats.
     As the most recent winner,  Chris Chamberlain started eighth in the Semi Late field and slowly inched forward from the start.   Tim Wyles was the early leader but Chamberlain was second and closing by lap 6.   After four laps of battling, Chamberlain took over and ran to the finish.  Bob Jay and Bill Henney rallied to chase down Wyles late but ran out of laps to make a pass.   At the finish it was Chamberlain, Wyles, Jay, Henney and Cody Butterbaugh.  Henney and Darryl Whetstone won the heats.
      Bill Replogle turned a season of hard luck into an up front stating spot in the Pure Stock event.. He jumped  around Bill Kennel at the start and led the duration.  Behind Replogle,  a race long battle erupted between Lou Wannon, Chad Gambol which was joined late by Mike Norris.  Norris got by Gambol late but ran out of laps before advancing further.  At the finish it was Replogle for the first time this season, followed by Wannyn, Norris, Chad Gambol, Charlie Walter and Travis Group.   Gambol and Replogle won the heats.
    The 4 Cylinder event was once again the wildest  race of the night.    Cale Martin led the first lap and Josh Datko the second before Dave Lambert took over    Ron Valentine thrilled   the fans on lap 5 with a wild flip in turn two bringing out the red flag.   On the restart, Lambert found himself in a battle up front as Dan Jackson  and a fast closing Jarrod Barclay went at it.   Jackson took over on lap 10 and held off Barclay for the win.
When Barclay failed post race inspection,  Lambert was credited with second, followed by Steve Frederick, Cindy Rhodes and Tyler Beckett.  Martin and Mike Lauffer won the heats.
LATE MODEL 25 LAP  1  Chuck Clise,  2 Greg Fetters,  3 Scott Lebarron,  4 Andy Haus,  5 Brian Booze,  6 Jack pencil,  7 Matt Sponaugle,  8 Scott Haus,  9 Jeff Miller,  10 Cory Weaver,  11 Chad Hollenbeck,  12 Ron Delano,  13 Matt Parks,  14  Wayne Johnson,  15 Eric Zembower,  16 Patrick Bryner,  17 Chris Harr,  DNS  Jeff Rine
LIMITED 20 LAPS  1   Josh Berrier,  2 Mike Altobelli Jr,  3 Tim Smith,  4 Robby Black,  5 Jesse  Snyder,  6 Donnie Farlling,  7 Brian Lessley,  8 Brian Duffy,  9 Nathan Lasalle,  10 Travis Calhoun,  DNS  Matt Howsare
SEMI LATE   15 LAPS  1   Chris Chamberlain,  2 Tim Wyles,  3 Bob Jay,  4 Bill Henney,  5 Cody Butterbaugh,  6 Darryl Whetstone,  7 Kerry Molovich,  8 Zane Weicht,  9  Taylor Farlling.
PURE STOCK  12 LAP  1   Bill Replogle,  2 Lou Wannyn,  3 Mike Norris,  4 Chad Gambol,  5 Charlie Walter,  6 Travis Group,  7 Tim Brown,  Brad Feight,  9 Bill Kennell,  DNS  Adam Daniels.
4 CYLINDER  12 LAPS  1   Dan Jackson,  2 Dave Lambert,  3 Steve Frederick,  4 Cindy Rhodes,  5 Tyer Beckett,  6 John Diehl,  7 Irv Fleegle,   8 Cale Martin,  9  Josh Datko,  10 Matt Diehl,  11 Bill Valentine,  12  Mike Lauffer,  DQ  Jarrod Barclay