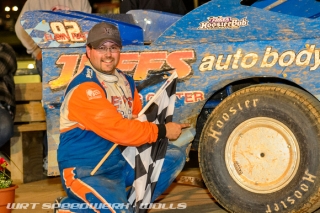 Jeff Rine led the list as four new drivers became first time 2012 winners at Bedford Friday night.  Rine, who tarted off the season with three consecutive second place runs finally took the  big prize in the Late Model 25 lapper, coming from the back and winning in a romp.   Rance Garlock, Cody Butterbaugh and Mike Lauffer also won  for the first time this seson in the Limited , Semi Late an 4 cylinder events,  Travis Group became a rarity as he scored his second Pure Stock event win.
  Jeff Rine was buried tenth in the Late Model starting field but was on a mission from the start.  Wayne Johnson led the opening laps before Matt Sponaugle got by.   As Sponaugle led,  Andy Haus maneuvered  into second spot by lap 4 but could not close on Sponaugle who sped away after three early caution events.  But the man on the move was Rine who was streaking forward.  With Jack Pencil , Rine was in the top five by lap 10.   They both disposed of Scott Haus on that lap and Rine made the move on Pencil a lap later.  It took two  laps to run down Andy Haus and several more to get by but Rine was second on lap 15.
Although Sponaugle was running the best race of his Bedford career out front,  Rine shot by for the lead on lap 16 ans set sail  moving way ahead of the field.  Altho he opened a wide lead,  Rines win was not without drama as his air cleaner blew off with two to go.  Rine elected to finish the event however and things held together for the big win.  Sponaugle  fought off a serious challenge from Pencil on the last lap to score second, with Pencil, Andy Haus and Scott Haus in  the top 5.  Scott Rhodes making his first 2012 start led the second five followed by Brian Booze, Matt Parks, Chris Harr and Johnson.  Parks and A Haus won the heats.
 Rance Garlock ended a frustrating early season by going pole to pole in the Limited event.   His run ended with some drama as Dave Leidy  came from the pack and closed late making Garlocks lead in jeopardy at the end.   Leidy had secured second on lap 15 and closed with each passing lap but fell just short at the finish.  Nathan Lasalle, Mike Altobelli Jr and Josh Berrier completed the top five.  Brian Duffy, Donnie Farlling, Matt Howsare, Robby Black and Mike Duck were the top 10.  Tim Smith and Berrier won the heats.
Cody Butterbaugh went pole to pole in the semi Late event but it was easily the best race of the night.  Tim Wyles and Zane Weicht were all over Butterbaugh from the start  as Bill Henney, Chris Chamberlain and Jim Saylor closed in.  It was a six car battle at the front for most of the way with Weicht actually passing Butterbaugh for the lead three times.   Each time however Butterbaugh forged back ahead as both Henney and Chamberlain looked for a way by them both.  Henney broke on lap  10 but it was no less intense at the front as Sayler took up the slack in the battle.
At the finish,  Weicht's last lap thrust fell short and Butterbaugh snagged his first career win, followed by Weicht  chamberlain and Sayler in a pack.  Kerry Molovich, Wyles, Darryl Whetstone, Greg Cornell, Bob Jay and Henney completed the top ten,  Butterbaugh and Chamberlain won the heats.
Brad Feight  was the early Pure Stock leader before Travis Group got by on lap six.  From that point Group ran off from the fight as Chad Walter emerged in second  on lap 9.   Group went on to win easily over Walter, Chad Gambol, Mike Norris and Feight.   There were no heats for the short field.
Garrett Watkins led the 4 Cylinder event early but Mike Lauffer got by on lap three.  From that point to the finish,  Lauffer ran off for the win.  Dave Lambert  came from  eighth to score second ahead of Watkins, Tyler Beckett and Cindy Rhodes.  Lauffer and Lambert won the heats.
LATE MODELS 25 LAPS  1 Jeff Rine,  2 Matt Sponaugle,  3 Jack Pencil,  4 Andy Haus,  5 Scott Haus,  6 Scott Rhodes,  7 Brian Booze,  8 Matt Parks,  9 Chris Harr,  10 Wayne Johnson,  11 Cory Weaver,  12 Eric Zembower,  13 Scott Lebarron,  14  Shawn Claar,  15 Chuck Clise,  16 Gene Knaub,  17  Greg Fetters,  
LIMITED 20 LAP  1  Rance Garlock,  2 Dave Leidy,  3 Nathan Lasalle,  4 Mike Altobelli Jr,  5 Josh Berrier,  6 Brian Duffy,  7 Donnie Farlling,  8 Matt Howsare,  9 Robby Black,  10 Mike Duck,  11 Jesse Snyder,  12 Tim smith,  13 Travis Calhoun,  
SEMI LATE 15 LAP  1  Cody Butterbaugh,  2 Zane Weicht,  3 Chris Chamberlain,  4 Jim sayler,  5 Kerry Molovich,  6 Tim Wyles,  7 Darryl Whetstone,  8 Greg Cornell,  9 Bob Jay,  10 Bill Henney,  11 Taylor Farlling
\
PURE STOCK 15 LAP.  1  Travis Group,  2 Charlie Walter,  3 Chad Gambol,  4 Mike Norris,  5 Brad Feight,  6 Bill Kennell,  7 Lou Wannyns,  8 Adan Daniels.
4 CYLINDER 12 LAP  1   Mike Lauffer,  2 Dave Lambert  3  Garrett Watkins,  4 Tyler Beckett,  6 John Diehl,  6 Phil Best,  8 Jeff Treece,  9 Irv Fleegle,  10 Robert Pluta,  11 Cale Martin,  12 Ron Valentine,  13 Steve Frederick,  14 Dan Jackson, 15  Matt Diehl,  16  Josh Datko