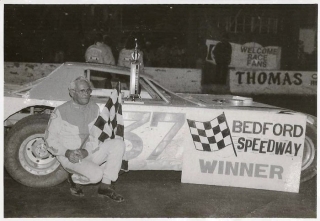 Coming Sunday September 8
th
will be the rescheduled Late Model 55 for the Three State Flyer Late Models presented by SAC Inc.  The winner of the Late Model 55 lap feature will be earning a $5105 payday. Also in action will be the Semi Lates, Modifieds, Pure Stocks and Four Cylinders.
The winner's purse for each feature event has been increased by $50, thanks to Dave Stahl of Valley Auto Corvettes in Bedford, check out their inventory at www.allcorvettes.net.
Gates open at 4:00 on Sunday, with warmups at 6:00 and racing at 6:30.
This will be the 26th running of the Labor Day Classic at Bedford, run in various forms and distances. When Chuck Brannon won the first race in 1988 it a 40 lap affair. The following year the race expanded to its traditional 55 lap distance for the first time, and has been that way for most years since. Traditionally the 55 is the longest, richest, and most prestigious event of the year on the Bedford schedule. It is also the last point race for each division with the exception of the Late Model Sportsman. Robbie Black clinched the LMS Championship last Friday night in the last point event of the year for that division. Matt Parks seeking his first Bedford Late Model Championship holds a 57 point lead over 2010 Champion Jeff Rine. Other point leaders heading into Sunday's event are Bob Jay, Adam Daniels,  Bill Replogle and Cale Martin.
Bedford Labor Day Classic Winners
1988- Chuck Brannon
1989- Jeff Smith
1990- Tom Clise
1991- Rick Eckert
1992- Rick Eckert
1993- Tom Clise
1994- Bob Salathe
1995- Nathan Durborow
1996- Andy Fries
1997- Roy Deese
1998- Lynn Geisler
1999- Jack Pencil
2000- Todd Ritchey
2001- Scott Haus
2002- Jack Pencil
2003- Jack Pencil
2004- Scott Haus
2005- Gary Stuhler
2006- Jeremy Miller
2007- Gary Stuhler
2008- Steve Francis
2009- Cancelled
2010- Cancelled
2011- Nick Dickson
2012- Jason Covert