By Dave Harclerode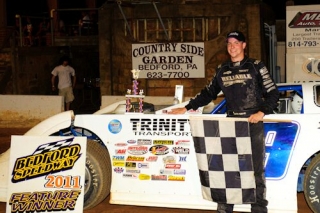 BEDFORD, PA –  Bedford Speedway's annual Memorial Day Special was slated for Friday night, but heavy rains postponed the event until Monday evening.  The schedule change brought with it a few invaders, and Austin Hubbard made the most of his rare visit by winning the $2,000 to win Super Late Model main event.  Brian Lowery made his pole starting position pay off by winning the $1,000 to win Limited Late Model feature, and Bob Jay returned to victory lane for the first time since 2008 in Street Stock action.  Charlie Walter picked up his first win of the season in the Hobby Stocks, and Mike Lauffer earned his first win of the season in the 4 Cylinders.
Austin Hubbard came from the 10th starting spot and made a late race pass for the lead to earn his first ever Bedford Speedway Super Late Model win.  Walker Arthur and Jack Pencil brought the field to the green for the 30 lap event, with Arthur out-gunning Pencil for the top spot.  Arthur ran the top groove and pulled out to a comfortable lead until a lap five caution for Brian Booze, Dylan Yoder, and Jeff Miller bunched the field again.  Hubbard had already advanced 5 spots by the time this caution came out, and on the restart he blitzed by Derek Byler and Chuck Clise to slide into the third position.  The trio ran close for most of the race until Hubbard dove under Pencil on lap 18.  Hubbard hounded Arthur for the lead for several laps, and on lap 24 the pair made contact.  Hubbard took the lead and Arthur rode the turn 3 wall for several feet before regaining composure, but Hubbard had to relinquish his lead because a caution came out for a slowing Shawn Claar before the lap was completed.  On the restart, Hubbard powered by Arthur and left everyone in his wake.  Rick Eckert, who slowly worked his way through the field and ran most of the race in 5th  powered past Chuck Clise and third running Jack Pencil on the restart, and overtook Arthur for second on lap 26.  Hubbard though, was too far ahead for Eckert to make any kind of challenge.  At the checkered it was Austin Hubbard by a straightaway, Eckert, Jack Pencil passed Arthur for third with three to go and hung on to finish there, Aurthur fourth, and Derek Byler fifth.  Sixth through tenth went to Mason Zeigler, Jeff Miller, Steve Campbell, Brian Booze, and Chuck Clise.  Heats went to Arthur and Hubbard.
Brian Lowery led flag to flag to earn his third career Limited Late Model victory.  Lowery easily outran last year's track champ Rick Singleton and heavy hitters Matt Sponaugle and DJ Troutman.  The only caution of the race came with 2 laps to go, and it appeared that Lowery may get a challenge from second running Sponaugle.  But it was all Lowery for the final two circuits, with Sponaugle, Singleton, Grant Adams, and Mike Duck coming across the finish line 2nd through 5th.  Heat winners were Tim Smith, Jr. and Sponaugle. 
Bob Jay reclaimed the all-time Street Stock feature winner top spot by winning his 23rd career feature Monday night.  Jay, who was tied with Brian Duffy for most division career wins prior to the event, started fifth and endured a wild first lap.  Second starting Zane Weicht made hard contact with the outside wall on the frontstretch just before completing lap one.  Zane's car careened into the fence and went into a series of end over end flips.  Several other cars were damaged in the accident, but only Weicht's car was retired for the night.  On the restart Jesse Snyder took the lead for the first four laps before Jay was able to work by him on the outside.  Jay wasn't able to totally shake Snyder, but Snyder had his hands full with Chris Chamberlain.  Chamberlain pulled off a turn one pass with five to go and set his sights on Jay, but Jay's Ford held strong until the end.  Following Jay and Chamberlain was Snyder, Bill Henney, and Donald Wyles.  Heats went to Chamberlain and Henney. 
Charlie Walter took home the first place trophy for the 17th time of his career in Bedford's Hobby Stock action.  Charlie started fourth but found himself in the lead by the time the first lap was completed.  Justin Michael made a rare appearance at the Bedford Speedway, and he ran a close second until a flat tire sent him pitside on lap ten.  With Walter out front, Terry Norris and Bill Replogle were left dueling for the second spot.  Norris won the battle for second, and Replogle settled for third.  Last week's feature winner Chad Gambol finished fourth, and Lou Wannyn fifth.  Heat winners were Travis Group and Justin Michael. 
Mike Lauffer made a mid-race pass stick to take the win in 4 Cylinder action.  Lauffer, who had passed pole sitter Juan Ryan several times for the lead only to be sent back to second due to cautions, finally made a pass for the lead that counted on lap seven.  Ryan held on for second, with Casey Fleegle, Ralph Miller, and Phil Best rounding out the top five.  Lauffer, Andrew Pluta, and Jeremy Miller won the preliminary events.
This Friday at the speedway will be a regular 5 division show consisting of Super Late Models, Limited Late Models, Street Stocks, Hobby Stocks, and 4 Cylinders.  It will be a ARCH night at the track, and the Hobby Stocks will be racing for $200.  Coming Friday June 10th will be the Appalachian Mountain Speedweek Finale.  The Limited Late Models will also be on hand that night racing for $1,000 to win.  For more information, call the speedway office at 814-623-0500 or visit www.bedfordspeedway.com
SUPER LATE MODELS
Feature (30 laps):  1. 19 Austin Hubbard  2. 24 Rick Eckert  3. 14 Jack Pencil  4. 87 Walker Arthur  5. 5* Derek Byler  6. 25z Mason Zeigler  7. 57 Jeff Miller  8. 2 Steve Campbell  9. B2 Brian Booze  10. 5 Chuck Clise (DNF)  11. 88 Scott Rhodes (DNF)  12. 20 Shawn Claar (DNF)  13. 39 Greg Fetters (DNF)  14. 17j Wayne Johnson (DNF)  15. 32 Dylan Yoder (DNF)
DNS:  1m Jeremy Miller
HEAT 1:  Arthur, Booze, Eckert
HEAT 2: Hubbard, Clise, Zeigler
LIMITED LATE MODELS
FEATURE (25 laps):  1. 13 Brian Lowery  2. 8 Matt Sponaugle  3. 99* Rick Singleton  4. 64 Grant Adams  5. 73 Mike Duck  6. 66 Justin Kann  7. 36 Travis Calhoun  8. 87 Eric Irvin  9. 39 Tim Smith, Jr. (DNF)  10. 7 DJ Troutman (DNF)  11. 1a Craig Perigo (DNF)  12. 10 Corey Weaver (DNF)
HEAT 1:  Smith, Duck, Lowery
HEAT 2:  Sponaugle, Troutman, Kann
STREET STOCKS
FEATURE:  1. 4J Bob Jay  2. 31c Chris Chamberlain  3. 22 Jesse Snyder  4. 50 Bill Henney  5. 10 Donald Wyles  6. 38 Brian Duffy  7. 78 Daryl Whetstone  8. 63 Kerry Molovich (DNF)  9. 55x Scott Grubb (DNF)  10. 45 Zane Weicht (DNF)
DNS:  44 Rick Wright
HEAT 1:  Chamberlain, Weicht, Wyles
HEAT 2:  Henney, Molovich, Grubb
HOBBY STOCKS
FEATURE:  1. 42 Charlie Walter  2. 73 Terry Norris  3. 60 Bill Replogle  4. 13 Chad Gambol  5. 77 Lou Wannyn  6. 77xxl Rick Potter  7. 7 Travis Group  8. 58 Ryan Beckett  9. 83e Ed Vogel  10. 28 Justin Michael (DNF)  11. 11 Jarrod Brown  12. 17w David Riley (DNF)
DNS:  17 Brad Feight
HEAT 1:  Group, Walter, Potter
HEAT 2:  Michael, Replogle, Gambol
4 CYLINDERS
FEATURE:  1. 38 Mike Lauffer  2. 3j Juan Ryan  3. 113 Casey Fleegle  4. 86 Ralph Miller  5. 11 Phil Best  6. 93 Jeremy Miller  7. 8R Ronnie Valentine  8. 88 Andrew Pluta  9. 5 Bill Hassenplug  10. 4 Eric Cramer  11. 98 Jon Gephart  12. 21 Dave Lambert (DNF)  13. 1 Lonnie Snyder (DNF)  14. 17k Kevin See (DNF)  15. 67 Robert Pluta (DNF)  16. 12 Steve Frederick (DNF)  17. 11j Dan Jackson (DNF)  18. 7 Nathan Kaminsky (DNF)  19. 726 Sean Fitpatrick (DNF)  20. 414 Rick Lamer (DNF)  21. 75 Cindy Rhodes (DNF)
HEAT 1:  Lauffer, P. Best, Kaminsky
HEAT 2:  A. Pluta, Fleegle, Ryan
HEAT 3:  J. Miller, R. Pluta, R. Miller