By Dave Harclerode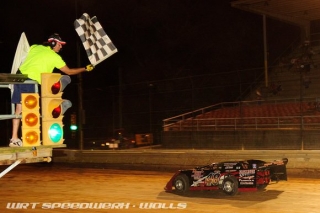 BEDFORD, PA –  Donnie Farlling ran a flawless race Friday night at the Bedford Speedway, winning his first ever Limited Late Model feature event.  The $1,000 to win 25 lap race was part of the Bedford and Cumberland challenge, dubbed the Bedrock shootout.  In other action, Brian Duffy won his fourth race of the season in the Street Stock division, Justin Michael made a rare Bedford visit worthwhile by winning the Hobby Stock feature, and Robert Pluta won his second race of the season in the 4 Cylinders.  Children were given an opportunity to try their luck on the speedway surface during the kid's bike races at intermission.
The Limited Late Model feature had Scott Daniels and Donnie Farlling on the front row when they took the green, and Farlling immediately blasted into the lead like a missile.  With division heavy hitters Grant Adams, Matt Sponaugle, Robbie Black, and Tim Smith, Jr. giving chase, it was Farlling's night to shine.  Adams slipped into the second spot in the later stages of the race, but couldn't reel in Farlling's number 48.  Farlling acknowledged the crowd with a fist pump as he took the checkered comfortably over Adams by several car lengths.  Matt Sponaugle finished third, Robbie Black fourth, and Tim Smith, Jr. advanced from his eleventh starting position to post a fifth place finish.  Sixth through tenth went to Travis Stickley, Cory Weaver, Travis Calhoun, Brian Lowery, and Scott Daniels.  Stickley and Adams won the qualifying heats.
Brian Duffy scored his 24th career Street Stock victory and regained the point lead in the division in a hard fought battle Friday evening.  Duffy held off late race charges from tenth starting Bill Henney to nab the well-earned victory.  Henney settled for second, and was followed to the checkered by Jesse Snyder, Zane Weicht, and Paul Gambol.   Completing the top ten was Kerry Molovich, Bob Jay, Donald Wyles, Bill Pluta, and George Farlling.  Brian Duffy and Bob Jay are once again tied for the most all-time Street Stock feature wins at the speedway.  Duffy and Jay won the heats.
Justin Michael only runs periodically in the Hobby Stock division at Bedford, but he is a strong contender every time he enters the historic fairgrounds.  Justin took advantage of a third starting spot to get to the front early and earn his third career victory at Bedford.  Division point leader Charlie Walter finished second, Travis Group third, Lou Wannyn fourth, and Terry Norris fifth.  Lou Wannyn won the lone heat race.
Robert Pluta charged from his eighth starting spot to score the victory in 4 Cylinder action.  Following Pluta was Davey Lambert, Mike Lauffer, Andrew Pluta, and Nathan Kaminsky.  Sixth through tenth went to Ralph Miller, Troy Imler, Steve Frederick, Juan Ryan, and Jeremy Miller.  Lauffer and Imler won the heats.
The speedway is off next Friday, and will return to action Friday July 29th for the Great Bedford Fair Dick Koontz/Paul Beamer Memorial Fair Race.  For more details, call the speedway office at 814-623-0500, or visit www.bedfordspeedway.com
LIMITED LATE MODELS
FEATURE (25 Laps):  1.  Donnie Farlling 48  2. Grant Adams 64  3. Matt Sponaugle 8  4. Robbie Black 01  5. Tim Smith, Jr. 39  6. Travis Stickley 32  7. Corey Weaver 10  8. Travis Calhoun 36  9. Brian Lowery 13  10. Scott Daniels 10D  11. Eddie Cornett 81 (DNF)  12. Craig Perigo 1a (DNF)
HEAT 1:  Stickley, Black, Sponaugle
HEAT 2:  Adams, Weaver, Lowery
STREET STOCKS
FEATURE:  1.  Brian Duffy 38  2. Bill Henney 50  3. Jesse Snyder 22  4. Zane Weicht 45  5. Paul Gambol 85  6. Kerry Molovich 63  7. Bob Jay 4J  8. Donald Wyles 10  9. Bill Pluta 73c  10. George Farlling 48  11. Elwood Hyre 6E  12. Daryl Whetstone 78
HEAT 1:  Duffy, Henney, Snyder
HEAT 2:  Jay, Whetstone, Molovich
HOBBY STOCKS
FEATURE:  1. Justin Michael 28  2. Charlie Walter 42  3. Travis Group 7  4. Lou Wannyn 77  5. Terry Norris 73  6. Mike Ott 21m  7. Rick Potter 77xxl (DNF)
HEAT 1:  Wannyn, Michael, Potter
4 CYLINDERS
FEATURE:  1. Robert Pluta 67  2. Dave Lambert 21  3. Mike Lauffer 38  4. Andrew Pluta 88  5. Nathan Kaminsky 7  6. Ralph Miller 86  7. Troy Imler 9T  8. Steve Frederick 12  9. Juan Ryan 3j  10. Jeremy Miller 93  11. Phil Best 11  12. Ronnie Valentine 8R  13. Kevin See 17k  14. Denny Morris 15n
HEAT 1:  Lauffer, Kaminsky, Ryan
HEAT 2:  Imler, A. Pluta, R. Pluta
Shootout Points standings
Coming soon…