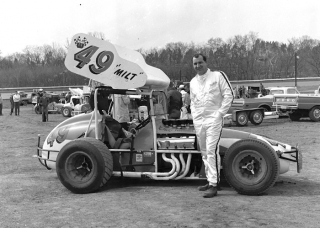 By Eric Zembower
BEDFORD,PA.Former Super Modified, Sprint car and Late Model stand out,Milton"Milt" Miller, ofBedford,Pa.passed away Sunday April 15, 2012 at the age of 79.
Miller began his driving career in 1964, quickly became a winning contender and by 1966 won the super modified championship at the South Penn and Hesston Speedways. In 1967, he was named driver of the Orville F. Conner Motor Transportation #49 "Hemi Hummer" Super Modified and went on to several feature wins that year.
Greater success would follow in 1968 when Conner named future Hall of Fame car builder and driver, Gary Martz, as crew chief.
The combination of Miller and Martz found victory lane 12 times atHagerstown, Jennerstown, South Penn, Williams Grove and Port Royal and was crowned champion atHagerstownand Jennerstown.  Miller established a 10 lap qualifying record that stood for several years at Williams Grove and was one of the first to conduct tire tests on the new Pocono Raceway in 1968. 
When Conner elected to switch to the lower cost late models at the end of the decade, Miller was without a ride.  He drove several years for the Kosier Brothers #8 team and made a start or two in Roy Morral's 880 as teammate to Smokey Snellbaker.  
After setting out for several years, Miller decided to give a Late Model a try forCumberlandMd.car owners Dick Duckworth and Sonny Michaels and their #S76 Camaro in 1975. Miller quickly adapted and found success atBedford, Jennerstown, Williams Grove, Hesston,Hagerstown, Port Royal andClearfieldtracks.  He retired for good after the 1976 season.
Over his career, he also raced at Pennsylvania speedways located in Huntingdon, Windber, Ebensburg, Mt Zion, Selinsgrove, New Oxford, Hershey and out of state tracks in Cumberland Md, Frostburg, Md, Ft Ashby W,Va, and Winchester Va,  
In 1997, Miller was named honorary starter and trophy presenter for the first race held at the newly constructed Thunder Valley Raceway inCentral CityPa.  He was inducted to the Bedford Speedway Hall of Fame in 2002 and the Jennerstown Speedway Hall of Fame in 2006.
Mr. Miller was born on January 26, 1933 inAltoona,Pa.and is survived by wife Shirley, daughter Beth, son John, two grandchildren and one great-grandchild.  He was retired as a franchised dealer with Snap-On Tools after 35 years, servicingBedfordandSomersetCounties. Funeral services were held Wednesday April 18 at the Bedford Presbyterian Church with burial at BedfordCountyMemorial Park.
On line condolences can be made at www.berkebilefuneralhome.com