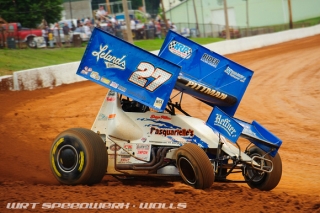 The powerful 410 Sprint Cars will make their annual appearance at the Bedford Fairgrounds in Bedford Pennsylvania, on Sunday evening June 3rd. The event will be dedicated to the memory of former Bedford Speedway promoter and longtime car owner Roy Morral. Sprints will be racing for a $3500 to win, $300 to start purse. The show will feature time trials, heat races and the 30 lap feature event. 
The annual visit of sprint cars to the historic fairgrounds has been a tradition since 1993, when they returned after a long absence from the track. Keith Kauffman claimed the victory in that event. In their most recent visit to the fairgrounds Daryn Pittman claimed the victory in the event last June. 
Roy Morral instituted weekly Friday night racing at the track when he became Bedford promoter in 1965. Morral also installed the first lighting system at the speedway during his tenure. Notable drivers at Bedford during the Morral era included Kenny Weld, Gerald Chamberlain, Boyd Arnold, Milt Miller, Muss Weyant, Elmer Ruby, Mitch Smith, Bob Elbin, Jim Kennedy, Bryan Osgood, Junior Ritchey as well as many other legends. Turk Burket, Larry Wright, Miles Chamberlain and Jim Nave all began their careers during this time. 
After retiring from promoting, Morral concentrated on being a car owner with many drivers racing his cars through the years, including Junior Ritchey, Smokey Snellbaker, Gary Howsare and Keith Kauffman. 
Standard Central PA car rules will be in effect. This will be an open tire event. 
Gates will open at 4:00, Warmups at 6:00 followed by time trials for the sprints with racing beginning at 7:00. Also on hand that night will be the Late Model Sportsman and Four Cylinders. General Admission will be $20, with kids 12 and under free. Pit admission will be $25. 
Purse for Bedford Feature- 30 Laps
$3500, 1800, 1200, 1000, 900, 800, 600, 550, 500, 450, 400, 350, 340, 330, 325, 320, 315, 310, 305, 300, 300, 300, 300, 300, 300. There will be $100 Tow money for the DNS cars