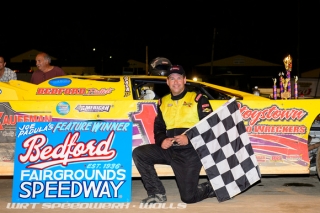 On an evening when a passing storm delayed the show ,  track regular Jack Pencil turned back the field, including the UFO regulars, to snag the July 4 celebration at Bedford.  It was point leader Pencil's third Bedford win of the season, the only repeater so far in that category at the track.   In other action, Zane Weicht snagged the  Semi Late event and Bill Replogle won the Pure Stock race  both joining Pencil as three time winners, before Mike Lauffer broke the mold with his  fourths 4 Cylinder win of the season.  Even after the hour plus rain delay to start the show, the entire holiday event was over at 11:15.
     It took three tries to get the Late Model event underway.  On the third and final try pole sitter Chuck Clise roared away to a healthy lead over the first ten green flag laps  with Scott Haus in tow.  Pencil marched forward  and took the spot from Haus on lap three.  He closed in on Clise but did not make a serious threat for the lead.  
     While the front two ran in tandem,  all eyes were on Jason Covert and 11th starting Greg Satterlee ripping through the pack.  Covert appeared in fifth spot  by lap 17 with Satterlee in tow as Pencil eased by Clise for the lead.   Once ahead Pencil cruised but Covert was coming hard.  He got by Clise and Jeff Rine to move into third by lap 20.  When Covert got by DJ Troutman for second on lap 25, the race was on.    But that lap also changed Satterlee's fate as a tire exploded, bringing out the caution and ending his run.  
      On the restart with 10 to go,  Covert made a challenge to Pencil but Pencil scooted away.   Covert rallied late to make it interesting but Pencil scored the win.  Covert trailed,  followed by Troutman, Rine and Scott Haus.  Brian Booze, Dylan Yoder,  Jim Yoder, Clise and Keith Barbara completed the top ten.  Haus, Matt Parks, Rine and Covert won the heats.   Justin Kann won the B.
      It was hand to hand combat for most of the way in the Semi Late event.  Donald Wyles was the  pole sitter and early leader.  Zane Weicht made it to second and challenged the leader  by lap three.  The pair went side by side for several laps  with Greg Hainsey in tow until Weicht got by on lap 8.  From there on, Weicht went on unhindered as Wyles and Hainset went at it.  Hainsey failed to complete the  pass as Weicht scored the win ahead of Wyles and Hainsey,  Kerry Molovich and Darryl Whetstone completed the top 5.
      Bill Replogle went pole to pole in the Pure Stock event,  but was harrassed the distance by Terry Norris.  Several times Norris was alongside him  but he repelled every effort.  At the finish it was Replogle, Norris, Tim Brown, Travis Group and  Bill Kennell.  
     After a wild first lap. Dave Lambert emerged as the initial 4 Cylinder leader.  He was tracked down late by Mike Lauffer. Lauffer got by on lap 7 and romped  on to post the win.  Lambert was a distant  second at the line. followed by  Jarrod Barclay, E J Johnson and Steve Frederick.
LATE MODEL  UFO 35 LAP  1   Jack Pencil,  2 Jason Covert,  3 DJ Troutman,  4 Jeff Rine,  5 Scott Haus,  6 Brian Booze  7 Dylan Yoder,  8  Jim Yoder,  9 Chuck Clise,  10  Keith Barbara,  11  Matt Parks,  12  Andy Haus,  13  Matt Sponaugle,  14  Scott Lebarron,  15  DJ Myers,  16  Jon Hodgkiss,  17  Lincoln Ritchey,  18  Greg satterlee,  19  Justin Kann,  20 Jamie Lathroum,  21  Shawn Claar,  22  Chris Harr,  23  Jerry Bard,  24  Steve Campbell,  25  Wayne Johnson,  26  Greg Fetters.  DNQ..Matt Sala,  Mike Altobelli Jr,  Tom Decker Jr,  Rick Singleton,  Jeremy Miller,  Tom Decker III
SEMI LATE 15 LAP  1  Zane Weicht,  2 Don Wyles,  3 Greg Hainsey,  4 Kerry Molovich,  5  Darryl Whetstone,  6 Vigi Zuccollotto,  7  Ryan Beckett,  8  Paul Gambol,  9  Don Farlling
PURE STOCK  12 LAP  1  Bill Replogle,  2 Terry Norris,  3  Tim Brown,  4 Travis Group,  5  Bill Kennelll,  6 Brad Feight,  7  Justin Milburn,  8  Mike Siegele,  9  Adam Daniels,  10  Jim Sacco,  11  Mike Ott.
4 CYLINDER 12 LAPS  1  Mike Lauffer,  2  Dave Lambert,  3 Jarrod Barclay,    4  EJ johnson,  5  Steve Frederick,  6  Cale Martin,  7 John Diehl,  8  Ron Valentine,  9  Matt Diehl,  10  Charles Stallman,  11  Duistin Drake,  12  Michael Jack,  13  Phil Best,  14  Ernie Bowser,