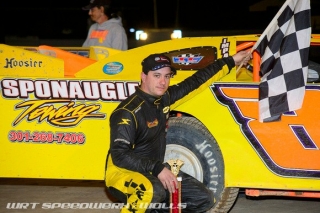 Matt Sponaugle,   who before August was winless at the Bedford Speedway, grabbed win number two Friday night. Sponaugle's win came   in the 25 lap Late Model headline event on the first night of the two day Fall Finale at the track.  Tyler Beckett  scored his first career 4 Cylinder win  in the only other feature of the evening.  The Semi Lates, Limiteds and Pure Stocks  all ran their qualifying races for the two day event.
Matt Sponaugle, who had won his first career  Late Model race at the track only two races ago, made a statement with a resounding win.  He was the recipient of a  invert six redraw and began the race from the pole.  He shot into the lead at the start and wired the field.  Steve Campbell maneuvered into second place early and chased Sponaugle for the duration.   But all eyes were on Jack Pencil and Dylan Yoder as they picked their way forward.
      A few early cautions kept the field tight but a long run after lap five allowed the pair to slice through the field.  
Pencil got by Justin Kann for third on lap 14,  but Yoder was coming.  After starting 13th, Yoder was fifth by the next caution on lap 18.   On that restart Sponaugle again ran off from Campbell who had his hands full with Pencil.
   One final caution flew  on the white flag lap as Yoder and Chuck Clise tangled in turn two, but Sponaugle survived the  one lap dash to score the win.  Campbell again matched his best ever Bedford finish with a second by holding off Pencil.  Yoder  finished his run forward at fourth, followed by Jim Yoder, Greg Fetters, Bob Dunn,  Wayne Johnson, Ernie Millon and Jim Struble.  Clise, Pencil and Fetters won the heats.
     Tyler Beckett was strong early in the 4 Cylinder finale.  He led a the start  but gave way to Mike Lauffer on lap 6.  Lauffer pulled away over the next few laps until a lap 13 caution.  After that Lauffers car never got up to speed and Beckett  blew by to lead the last two laps.  Andrew Pluta rallied to grab second at the line followed by Ron Valentine, Pat Breahm and Steve Frederick.  Lauffer and Cindy Rhodes won the heats.
LATE MODEL 25 LAP 1  Matt Sponaugle,  2  Steve Campbell,  3  Jack Pencil,  4  Dylan Yoder,  5  Jim Yoder,  6  Greg Fetters,  7  Bob Dunn,  8  Wayne Johnson,  9  Ernie Millon,  10  Jim Struble,  11  John Myers,  12  Chuck Clise,  13  Andy Haus,  14  Chuck Schultz,  15  Justin Kann,  16  Darrass Deneen,  17  Tom Decker III,  18  Gene Kain,  19  Ron Bottenfield,  20  Marvin Winters,  21  Cory Weaver,  22  Troy Swindell,  23Jeff Rine  DNS  Tom Decker 
4CYLINDER 15 LAP  1  Tyler Beckett,  2  Andrew Pluta,  3  Ron Valentine,  4  Pat Breahm,  5  Steve Frederick,  6  Phil Best,  7  Mike Lauffer,  8  Ryan Beckett,  9  Ernie Bowser,  10  Jon Gephart,  11  Matt Diehl,  12  Dave Lambert,  13  Josh Datko,  14  Cale Martin,  15  Cindy Rhodes,  DND Dustin Drake