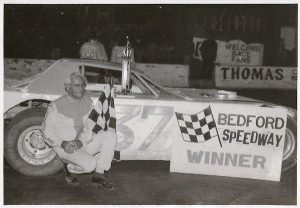 This Labor Day weekend Bedford Speedway returns to racing action with a busy two race doubleheader. Friday night, August 31st, is the annual running of the Labor Day 55 for the Late Models. The Late Models will be joined that night by the Modifieds, Pure Stocks and Four Cylinders.
Racing returns on Sunday September 2nd, with a full program for the Mason Dixon Series Late Model Sportsman racing for $1000 to win, Semi Lates, Racesaver Sprints, Four Cylinders & Penn Mar Vintage Cars.
Also running on that Sunday will be the makeup features from August 17th for the Late Model Sportsman, Semi Lates & Racesaver Sprints. As qualifying was completed on August 17th before the rain hit the lineups for those features are set. Sunday action will begin with warmups for each division, then go into the three makeup features, with the regularly scheduled program following.
With no options for the United Racing Club to return to Bedford this season, their makeup feature will be run along with their next visit to the track in May 2019. For their next Bedford show the URC Sprints will run their already qualified makeup feature, followed by a complete regular program.
As always, the Labor Day weekend races will be the final point's race of the season for all our Bedford divisions.
For the Labor Day 55 the Late Models will be lining up using the group time trial format. Drivers will qualify against their group for heat lineups. Heat races will then determine the lineup for the 55. As always there are no entry fees for drivers.
Friday Night- August 31st– Gates at 5:00 with warmups at 7:00 and racing at 7:30.
General Admission $22, Kids 12 & under Free, Pit Admission $32
Sunday Night- September 2nd– Gates at 4:00 with warmups at 6:00 and racing at 6:30
General Admission $10, Kids 12 & under Free, Pit Admission $25
Labor Day 55 Purse
$5055
2200
1600
1400
1200
1000
900
800
700
650
600
575
550
525
500
490
480
470
460
450
450
450
450
450
450
Tow/ 100
Photo: Chuck Brannon, Labor Day winner at Bedford in 1988