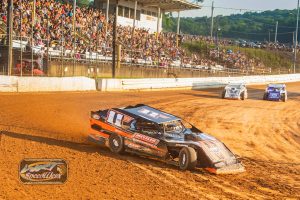 The Renegades of Dirt Modified Tour which returns to high profile national touring status in 2019 is excited to announce the addition of Bedford Speedway to its upcoming schedule of events. One of the nation's premier names in modified racing, the 'Renegades' will make its first ever visit to the Bedford Fairgrounds Speedway on Friday May 17th for a stellar $2000 to win Modified special.
Race fans can expect a fierce Friday night shootout as the areas hot shoes like Michael Altobelli, Drake Troutman, Alyssa Rowe, Jonathan Taylor and many more will be a high octane test for the touring "Renegades" of Dirt as they do battle for the first time at the 5/8 mile monster dirt oval.
"We are so excited to be bringing the Renegades into Bedford this year. This will be the biggest modified race of the season at Bedford, as well as the biggest modified race in our area paying" stated Joe Padula. "We have spent the last several years building a solid weekly program for our modified teams, and this is a great opportunity to give them a high paying tour race" added Padula.
"Cody and his team have worked hard to put together a fantastic sanction for the modifieds, they will be bringing some of the best drivers drivers in the nation to battle our tough Bedford regulars. We look forward to welcoming them to Bedford" concluded Padula.
Bedford Speedway hosted its first auto race on September 5th 1936, with Depression-era star Billy Winn taking the win. Over the past 83 years the track has hosted some of the greatest names in racing history. The speedway is located at the intersection of I-99 & US 30, with easy access from PA Turnpike exit 146, just blocks from beautiful downtown Bedford, PA. The large fairgrounds oval plays host to weekly Friday night racing, as well as a diverse mix of special events. Jonathan Taylor currently sits atop the leaderboard in Bedford Speedway career modified wins.
Go to www.renegadesofdirt.com and/or www.bedfordspeedway.com for more event information on the event, track and series.
'The Boys Are Back!' Making their national return in 2019 for more information regarding the Renegades of Dirt Modified Tour visit the Renegades of Dirt online at www.renegadesofdirt.com. You can also call Renegade
Offices anytime for further information @ 304.771.5051. Like us on Facebook at www.facebook.co / rodconnect or-on Twitter at www.twitter.co / renegadesofdirt.