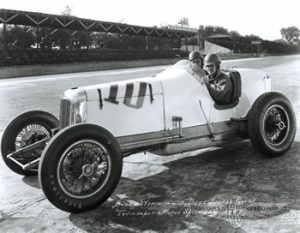 The annual Billy Winn Classic is coming this Friday night, May 5th to the Bedford Speedway. The speedway will be celebrating 87 years of racing at the historic fairgrounds oval. An exciting night of racing is planned with the Super Late Models racing 50 laps joined by the Modifieds, and the 602 Sport Mods. The winner's share of Friday night's Late Model event is $8,700, part of a $37,000 total purse.
Friday's racing program is dedicated to the memory of Billy Winn, one of the top dirt racers of the 1930's and the winner of the first auto race at the Bedford on September 5th 1936. Winn, a 2003 inductee of the National Sprint Car Hall of Fame in Knoxville was one of the most outstanding racers of the depression era AAA circuit. Not limiting himself to dirt, Winn also competed eight times at the Indianapolis 500. Hosting its first race in 1936, Bedford is the oldest currently operating track in Pennsylvania, and one of the ten oldest in the country.
The Late Models will lineup using the group time trial format, with heat races lined up based on each timed group. The top heat finishers will then redraw for their feature starting position. As this is a Bedford point race, the 25th and final starting spot in the field will be reserved for the high Bedford point driver who fails to qualify in the heats of B-Main.
As is Bedford policy there are no driver entry fees for the show. Drivers take note that regular Bedford rules and regulations will be in effect for this week.
Gates Open Friday night at 5:00 with warmups at 7:00 and racing at 7:45. General admission is $25, kids 12 and under are free, with pit admission $35
Late Model Purse 5/5/23 – 50 Laps
$8,700
4,000
3,000
2,000
1,600
1,400
1,200
1,100
1,050
1,000
950
900
850
825
800
775
750
725
700
675
650
625
600
600
600
No entry fee.