By Dave Harclerode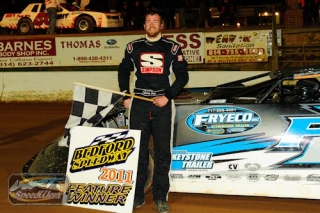 BEDFORD, PA –  Coleby Frye made Bedford Speedway's 2011 season opener a memorable one Friday night by winning both the Super Late Model main event and the Limited Late Model feature.  The Dover, Pennsylvania driver is the first ever to win feature events in multiple divisions on the same date at the 75 year old track, a rare accomplishment in the world of racing.  In Street Stock action, 2010 division champ Bill Henney started the season off on the right foot by winning both his heat and the feature event.  Travis Group triumphed in Hobby Stock action, and Andrew Pluta capped the cold evening with a 4-Cylinder win.
Frye blistered the field to earn his third career Bedford Super Late Model win.  Coleby picked up his first two Bedford Super Late Model wins last season, including the huge Appalachian Mountain Dirt Late Model Speedweek finale.  Quickly becoming a fan favorite, Frye started in the third slot for the 25 lap main event.  Frye battled for the top spot with DJ Myers and Jeff Miller for several laps until he broke free from the pack and easily held a several car length lead for the remainder of the race.  A late race caution for 4 time champ Scott Haus bunched the field and put second place running DJ Myers on Frye's bumper, but when green flag racing resumed Frye was unstoppable.  Myers finished a distant second, with Miller, Gene Knaub, and Jack Pencil rounding out the top five.  Dylan Yoder won the hard charger award and finished sixth, and Nick Dickson, Greg Fetters, Jerry Bard, and Matt Parks completed the top ten score card.  Newcomer Gene Knaub and Myers won the heat events.
Frye capped off his dream evening by winning his second career Limited Late Model feature from the fifth starting spot.  It took two attempts to start the race before officials instructed the field to line up single file for the third try.  Unfortunately, division stand out Matt Sponaugle suffered a horrific high speed crash in turn three on the first lap.  The violent crash brought out the red flag, and the shaken Sponaugle was able to exit his racer under his own power.  When racing resumed, Frye quickly bypassed front runners Grant Adams and DJ Troutman and held on for the historic win.  Troutman claimed second, Tim Smith third, 2010 division champ Rick Singleton was fourth, and Grant Adams fifth.  Frye, Sponaugle, and Singleton won heats for the 21 car field.
Bill Henney picked up seventh career Street Stock feature in fairly easy fashion.  The 2010 champ still has the high side at Bedford figured out, which played a big part of his success last season.  Brian Duffy charged from his seventh starting spot to put a bid in for the win, but at the line it was Henney, Duffy, Daryl Whetstone, Bob Jay, and Kerry Molovich.  Jesse Snyder and Henney won the heats.
Travis Group won his second career Hobby Stock feature after battling hard with Rick Potter and Charlie Walter.  The trio put on a great show for the fans, with Group coming away with the win over Potter, Walter, 2010 division champ Bill Replogle and RT Troutman.  Group and Replogle were the heat winners.
A 25 car field in the 4-Cylinder division thrilled fans with their action packed racing action, and Andrew Pluta was victorious for the fourth time in his career.  Following Pluta at the checkered was Dwain Rhodes, Robert Pluta, Ralph Miller, and Jeremy Miller.  Heat wins went to Robert Pluta, Dwain Rhodes, and Mike Lauffer.  The third heat race was marred by a wild backstretch crash involving Joe Means and Troy Imler.  The pair made heavy contact before both cars flipped wildly end over end several times. 
The speedway will be back in action next Friday night with a regular five division show consisting of Super Late Models, Limited Lates, Street Stocks, Hobby Stocks and 4-Cylinders.  Gates open at 5pm with racing action starting at 7:15pm.  Coming Friday April 29th is the annual Lucas Oil Late Model Dirt Series $10,000 to win race sponsored by Bedford Valley Petroleum.  The Street Stocks will also be on hand for $500 to win, and the event will have Sunday, May 1st as the rain date.  For more information, visit www.bedfordspeedway.com, or call the speedway office at 814-623-0500.
SUPER LATE MODELS
FEATURE:  1. Coleby Frye F1  2. DJ Myers 70j  3. Jeff Miller 57  4. Gene Knaub 1  5. Jack Pencil 14  6. Dylan Yoder 32 (Tri-State Racing Photos Hard Charger)  7. Nick Dickson 17D  8. Greg Fetters 39  9. Jerry Bard 26  10. Matt Parks 15p  11. Chuck Clise 5  12. Jonathan DeHaven 13d  13. Tom Decker, Jr. 43  14. Derek Byler 5* (DNF)  15. Scott Haus 21 (DNF)  16. Wayne Johnson 17j (DNF)  17. Jeff Rine 92 (DNF)
HEAT 1:  Knaub, Dickson, Johnson
HEAT 2:  Myers, Pencil, Fetters
LIMITED LATE MODELS
FEATURE:  1. Coleby Frye U10  2. DJ Troutman 7  3. Tim Smith, Jr. 39  4. Rick Singleton 99*  5. Grant Adams 64  6. Donnie Farlling 48  7. Brian Lowery 13  8. Matt Cosner 66c (Tri-State Racing Photos Hard Charger)  9. Randy Wible 35  10. Eric Irvin 87  11. Jimmy Richards F13  12. Josh Berrier 15b (DNF)  13. Travis Cottle 32 (DNF)  14. Justin Kann 66 (DNF)  15. Corey Weaver 10 (DNF)  16. Eddie Cornett 81 (DNF)  17. Matt Sponaugle 8 (DNF)  18. Daniel Cornman 3 (DNF)  19. Craig Perigo 1a (DNF)  20. Mike Duck 73 (DNF)  21. George Dixon, Jr. 77 (DNF)
HEAT 1:  Frye, Adams, Smith
HEAT 2:  Sponaugle, Wible, Lowery
HEAT 3:  Singleton, Troutman, Perigo
STREET STOCKS
FEATURE:  1.  Bill Henney 50  2. Brian Duffy 38 (Tri-State Racing Photos Hard Charger)  3. Daryl Whetstone 78  4. Bob Jay 4j  5. Kerry Molovich 63  6. Travis Brown 29  7. Scott Grubb 55x  8. Donald Wyles 10  9. Cody Buterbaugh B1 (DNF)  10. Jesse Snyder 22 (DNF)  11. Zane Weicht 45 (DNF)
HEAT 1:  Snyder, Wyles, Brown
HEAT 2:  Henney, Jay, Whetstone
HOBBY STOCKS
FEATURE:  1. Travis Group 7  2. Rick Potter 77XXL  3. Charlie Walter 42  4. Bill Replogle 60  5. RT Troutman 18 (Tri-State Racing Photos Hard Charger)  6. Lou Wannyn 77  7. Ryan Beckett 58  8. Willie Ling 31  9. Ed Vogel 83e  10. Terry Norris 73  11. Tim Brown 22 (DNF)  12. Jeff Brown 29 (DNF)
HEAT 1:  Group, Wannyn, T. Brown
HEAT 2:  Replogle, Potter, Walter
4-CYLINDERS
FEATURE:  1. Andrew Pluta 88  2. Dwain Rhodes 88R  3. Robert Pluta 67  4. Ralph Miller 86 (Tri-State Racing Photos Hard Charger)  5. Jeremy Miller 93  6. Ronnie Valentine 8R  7. Steve Frederick 12F  8. Chris Shoemaker 39  9. Nick Zborolvancik 36  10. Dave Lambert 21  11. Phil Best 11  12. Mike Hall 14  13. Mike Lauffer 38  14. Juan Ryan 3j (DNF)  15. Nathan Kaminsky 7 (DNF)  16. Casey Fleegle 113 (DNF)  17. John Lamer 46 (DNF)  18. Steve Riggleman 19 (DNF)  19. Denny Morris 15n (DNF)  20. Sean Fitzpatrick 726 (DNF)
DNS:  Dan Jackson 11j, Joe Means 0, Irvin Fleegle 2, Troy Imler 9T, Tyler Smay 12
HEAT 1:  R. Pluta, Shoemaker, Ryan
HEAT 2:  Rhodes, Frederick, C. Fleegle
HEAT 3:  Lauffer, A. Pluta, Best