By Dave Harclerode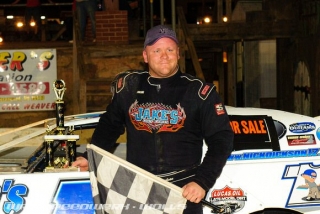 BEDFORD, PA – Nick Dickson earned his second win of the season and took home $2,000 for his efforts Friday night at the Bedford Speedway.  Tim Smith, Jr. won $1,000 by taking the win in a wild Limited Late Model feature, and Bill Henney won $500 in Street Stock action.  Travis Group won the $300 top prize in the Hobby Stocks, and Robert Pluta pocketed $200 for winning the 4 Cylinder feature event.  The holiday special event was the final point race and the final race of the season. 
Nick Dickson used a front row starting spot on a very fast racing surface to his advantage in Super Late Model action.  Dickson grabbed the lead on the first lap from pole sitter Greg Fetters, and maintained a blistering pace with Jeremy Miller hot on his trail.  Miller's bid for the win ended early though, as a spin in turn three put him to the tail of the field.  Chuck Clise and Coleby Frye both started in the fourth row, and they were Dickson's worst threat.  Both Clise and Frye worked their way through the field, but 30 laps wasn't enough to put any serious heat on Dickson, and Nick took the checkers and his seventh career Bedford win.  Clise and Frye followed, with Derek Byler taking fourth, and Jeff Miller fifth.  Sixth through tenth went to Fetters, Gene Knaub, Jack Pencil, Dylan Yoder, and Mike Lupfer.  Jeremy Miller and Jack Pencil won the heats.  Dylan Yoder was poised to win his first ever Bedford Track Championship coming into this final event, but mechanical trouble in heat race action put a damper on his title run.  Yoder ran the feature in his father Jim's number 27, but Jack Pencil, who followed Yoder by ten points at the beginning of the night, won his heat and finished a spot ahead of Dylan in the feature.  Pencil claimed the Championship by 25 points.  It's his sixth points title in the division, and eighth total in all divisions combined (both track records). 
Tim Smith, Jr. won his second Limited Late Model feature of the year Friday night from his twelfth starting spot.  Smith used the little used high side to pick cars off on his charge to the front and claimed his 27th career victory ahead of second place Jake Jones, third place Corey Weaver in his best ever Bedford finish, Donnie Farlling and Rance Garlock, who started 18th.  Sixth through tenth went to Robbie Black, Khi Swanger, Travis Calhoun, Josh Berrier, and Travis Stickley.  Jones, Weaver, and DJ Troutman won the heats.  Just like in the Super Late Model division, a young driver was looking for his first ever Bedford Points Championship.  Grant Adams held a forty point lead over Tim Smith coming into Friday's events.  Adams gave up five points in heat race action, and only needed to stay within six positions of Smith to claim the title.  Adams used the same high line as Smith in feature action, and was charging to front when something went seriously wrong.  A blown motor sent Adams pitside, and Smith went on to win his fourth Limited Late Model Track Championship at Bedford. 
Bill Henney blasted from his ninth starting spot to take the win in the Street Stock division.  Henney was in typical form, running the top side of the speedway in a crowd pleasing manner.  The win was his fourth of the season, and more importantly, the win sealed up his second straight Points Championship.  Henney trailed Brian Duffy by five points prior to this last event, and for the third straight division, the point leader prior to Friday night lost the championship.  Duffy lost the point lead in heat race action, but put in a valiant effort in the feature finishing second to Henney.  It wasn't enough though, and Duffy settled for both second in the feature and in points.  Chris Chamberlain advanced twelve spots to finish third in the feature, followed by Bob Jay and Daryl Whetstone.  Paul Gambol and Henney won the heats. 
Travis Group won his second feature of the year and third of his career in the Hobby Stocks.  Travis won convincingly over Charlie Walter, Bill Replogle, Terry Norris, and Chad Gambol.  Replogle and Group won the heats.  Second in points, Group earned the most points he could in one event by winning both his heat and feature, but it wasn't enough to overtake Charlie Walter who finished second to Group in both the heat and feature.  Charlie's Points Championship is his third in the division at Bedford.   
Robert Pluta started ninth and worked through the field to earn his third feature of the season and the Track Championship in 4 Cylinder action.  Following Pluta at the line was Davey Lambert, Dan Jackson, Juan Ryan, and Nick Iski.  Sixth through tenth went to Skip Bryner, Ralph Miller, Troy Imler, Phil Best, and Jeremy Miller.  Jeff Treece, Robert Pluta, and Mike Lauffer won the heats.  The points title was Robert's first of his career at Bedford, edging out his twin brother Andrew who finished second in points. 
The 2011 season is complete.  Check www.bedfordspeedway.com often for information about the banquet, and next season's schedule. 
SUPER LATE MODELS
FEATURE (30 Laps):  1.  Nick Dickson 17  2. Chuck Clise 5 (Tri-State Racing Photos Hard Charger)  3. Coleby Frye F1  4. Derek Byler 5*  5. Jeff Miller 57  6. Greg Fetters 39  7. Gene Knaub 1K  8. Jack Pencil 14  9. Dylan Yoder 32  10. Mike Lupfer 06  11. Andy Haus 76 (DNF)  12. Tim Wilson 3 (DNF)  13. Jeremy Miller 1m (DNF)  14. Wayne Johnson 17j (DNF)  15. Jeff Rine 92 (DNF)
DNS:  Jim Yoder 27
HEAT 1:  Jeremy Miller, Jeff Miller, Fetters
HEAT 2:  Pencil, Byler, Frye
LIMITED LATE MODELS
FEATURE (25 Laps):  1. Tim Smith, Jr. 39  2. Jake Jones 43  3. Corey Weaver 10  4. Donnie Farlling 48  5. Rance Garlock 19 (Tri-State Racing Photos Hard Charger)  6. Robbie Black 01  7. Khi Swanger 88  8. Travis Calhoun 36  9. Josh Berrier 15B  10. Travis Stickley 32  11. Eddie Cornett 81  12. Nathan LaSalle 68 (DNF)  13. Eric Irvin 87 (DNF)  14. Brian Lowery 13 (DNF)  15. Randy Burkholder 77B (DNF)  16. Ralph Morgan 44 (DNF)  17. DJ Troutman 7 (DNF)  18. Grant Adams 64 (DNF)  19. Rick Singleton 99* (DNF)  20. Scott Daniels 10D (DNF)  21. Matt Howsare 5H (DNF)
DNS:  Matt Sponaugle 8
HEAT 1:  Jones, Farlling, Irvin
HEAT 2:  Weaver, Singleton, Black
HEAT 3:  Troutman, Stickley, Lowery
STREET STOCKS
FEATURE:  1. Bill Henney 50  2. Brian Duffy 38  3. Chris Chamberlain 31c (Tri-State Racing Photos Hard Charger)  4. Bob Jay 4J  5. Daryl Whetstone 78  6. Zane Weicht 45  7. Donald Wyles 10  8. Kerry Molovich 63  9. Rick Wright 44  10. Paul Gambol 85  11. Joe Means 0  12. Scott Grubb 55x  13. Jerry Robinson 711 (DNF)  14. Jesse Snyder 22 (DNF)  15. George Farlling 48 (DNF)  16. Jim Sayler 96 (DNF)
DNS:  Elwood Hyre
HEAT 1:  Gambol, Farlling, Weicht
HEAT 2:  Henney, Sayler, Molovich
HOBBY STOCKS
FEATURE:  1. Travis Group 7  2. Charlie Walter 42  3. Bill Replogle 65  4. Terry Norris 73  5. Chad Gambol 13  6. Lou Wannyn 77  7. Jarrod Brown 11  8. RT Troutman 18T  9. Rob Varner 04  10. Jason Haggert 18  11. David Riley 17w (DNF)
DNS:  Ed Vogel
HEAT 1:  Replogle, Norris, Riley
HEAT 2:  Group, Walter, Wannyn
4 CYLINDERS
FEATURE:  1. Robert Pluta 67  2. Dave Lambert 21  3. Dan Jackson 11J  4. Juan Ryan 3J  5. Nick Iski 13i  6. Skip Bryner 68  7. Ralph Miller 86  8. Troy Imler 9T  9. Phil Best 11  10. Jeremy Miller 93  11. Nathan Kaminsky 7  12. Ronnie Valentine 8R  13. Kevin See 17k  14. Jon Gephart 98  15. Terry Kuny 111  16. Denny Norris 15n  17. Lonnie Snyder 1s  18. Andrew Pluta 88 (DNF)  19. Mike Lauffer 38 (DNF)  20. Steve Frederick 12 (DNF)  21. Jeff Treece 56 (DNF)  22. Tyler Beckett 21B (DNF)  23. Harold Crawford 0 (DNF)
HEAT 1:  Treece, Lambert, Kaminsky
HEAT 2:  R. Pluta, Imler, Bryner
HEAT 3:  Lauffer, Jackson, Ryan