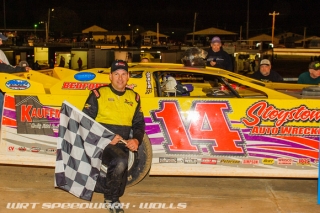 Defending track champion Jack Pencil opened the 2012 Bedford  season with a win in the 25 lap Late Model event.  It was a bit of irony for Pencil as  he had been the winner of the last Joe Padula promoted  event at the speedway 12 years ago.  In other action, Brian Lessley survived a wild last lap to score a photo finish win in Limited action,  Bob Jay came from the back to win the Semi Late event, Lou Wannyn won the Pure Stock event and Dan Jackson took the 4 Cylinder finale.
      Pencil was the big winner in the opening day pill draw start as his 4th place run in his heat rewarded him  with a pole position start,  He jumped ahead of Wayne Johnson at the start and opened up a huge lead over the first 20 green flag laps.   By lap 11 though,  Jeff Rine had moved up to second place and was noticeably closing on Johnson.
     Rine was approaching Pencil when a 5 car melee broke out in turn 4 bringing out the only caution of the event.
That action resulted in the retirement of Scott Haus and Greg Fetters among others and gave Rine a close up look at the leader.   But on the restart with 5 laps to go, Pencil scooted away to score the win.  Rine was second, followed by Matt Parks, Colby Frye, Johnson, Chuck Clise, Matt Sponaugle, Eric Zembower, Chris Harr and Tom Decker.  Haus and Frye won the heats.
     Brian Lessley shot by Nathan Lasalle at the start of the Limited event and opened up a wide lead early on.   But  jockeying in the field soon had Matt Howsare in second with Tim Smith in third  by lap 6.  Once in those positions they fought eac other hard but also began to run down Lessley.  As the race went through all green,  the pair closed on Lessley each lap and were being caught from behind by DJ Troutman and  Robbie Black.
   As the laps wore on and the gang tightened up  the stage was set for a great finish but it was in fact more han anyone could anticipate.  As Lessley came off the final turn for the finish,  Howsare made the big move to the inside and Smith went to the outside.  Howsare's move was successful but late as  Lessley was ahead in a photo finish at the line with Smith on the outside for third.  The finish was so close that neither driver knew who won until being told.   Behind the top 3 were Troutman, Black, Mike Altobelli Jr, Lasalle, Marvin Winters,  Craig Perigo and Don Farlling.  Troutman and Rance Garlock won the heats
Chris Chamberlain took the Semi Late lead at the start  but 7th starting Bob Jay ran him down.  After battling a few laps,  Jay took the lead on lap 12 and led the final three laps.  Chamberlain held on for second ahead of a  group led by Kerry Molovich, Zane Weicht and Darryl Whetstone.  
     Lou Wannyn started up front and took the early Pure Stock lead, but when Charlie Walter arrived from his 9th starting spot, he gave Wannyn a run for the money.  Walter made several moves at the lead but fell short at the line as Wannyn won.  Terry Norris,   Justin Michael, Chad Gambol  Ryan Beckett and Jarrod Brown.   Bill Replogle and Travis Group won the heats
       It took three tries to get  the 4 cylinder event underway, but when it went, Dan Johnson took control.  When Robert Pluta emerged from the pack and ran Jackson down the race was on.  Pluta tried several times including a last lap try, but coming off turn 4 for the finish his car shut off allowing Jackson a clear shot at the win.  Dave Lambert took second ahead of Mike Lauffer who started last in the field, Pluts and  Josh Datko.   Andrew Pluta, Juan Ryan and Lauffer won the heats.
LATE MODEL 25 LAPS  1 Jack Pencil  2 Jeff Rine,  3 Matt Parks,  4  Colby Frye,  5 Wayne Johnson,  6 Chuck Clise,  7 Matt Sponaugle,  9 Chris Harr,  10 Tom Decker,  11 Cory Weaver,  12 Greg Fetters,  13 Mike Lupfer,  14 Scott Haus,  15,  Matt Sala.
LIMITED 20 LAP  1 Brian Lessley,  2 Matt Howsare,  3 Tim Smith,  4 DJ Troutman,  5 Robbie Black,  6 Mike Altobelli Jr,  7 Nathan Lasalle,  8 Marvin Winters,  9 Craig Perigo,  10 Don Farlling,  11 Curt Heath,  12 Sam Seaffer,  13  Travis Calhoun,  14 Ron Bottenfield,  15  Jesse Snyder,  16 Travis Cottle,  17  Rance Garlock,  18 Josh Berrier
SEMI LATE 15 LAP  1 Bob Jay,  2 Chris Chamberlain,  3 Kerry Molovich,  4 Zane weicht,  5 darryl Whetstone,  6 Travis Brown,   7 Cody Butterbaugh,  8 Taylor Farlling,  9  Scott Grubb
PURE STOCK,  1  Lou Wannyn,  2 Charlie Walter,  3 Terry Norris,  4 Justin Michael,  5 Chad Gambol,  6 Tyler Beckett,  7  Jarrod Brown,  8 Brad Feight,  9 Rob Varner,  10 Jim Sacco,  11 Justin Milburn,  12 Bill Replogle,  13 Travis Group,  14 Tim Brown,  Mike Siegele.
4 CYLINDER 12 LAP.  1  Dan Jackson,  2 Dave Lambert,  3 Mike Lauffer,  4 Robert Pluts,  5 Josh Datko,  6 Juan Ryan,  7 Andrew Pluta,   8  Tyler Beckett,  9  Nathan Kamisly,  10 Jeff Areq,  11 Paul Crynock,  12  Phil Best,  13  Maqtt Diegl,  14  Mike Hall,  15  Doug Hostetter,  16  Ryan Norriss,  17 Dwain Rhodes,  18  Ron Valentine,  19  Cale Martin  20  LLoyd Hockenberry,  DNS  Lonnie Snyder