by Eric Zembower….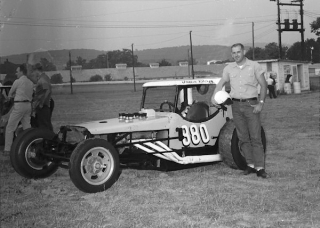 Sunday's special Sprint car race will be in honor of the late businessman and race car owner, Roy Morral of Breezewood.  Morral was one of the movers and shakers of local auto racing for more than 30 years.
Locally, Morral was most known for his partnership with Everett driver Jr Ritchey from the early 60's to 1969 in Modified, Super Modified and Sprint car competition and in 1978 with a Late Model stock car.  Also Morral promoted weekly Super Modified and Semi-Late Model racing events at the Bedford Speedway in 1965 and 1966 and was the first promoter to install lights and conduct night racing.  Racing programs at Bedford from 1936 to 1964 was held either on Saturday or Sunday afternoons.
Morral and Ritchey first found victory lane locally at the former South Penn Speedway in Everett, but soon ventured "down east" to Port Royal and Williams Grove by 1963.  The 880 team with its signature spit polished light blue and white painted Modified became one of the top cars quickly and is credited as the first Bedford County team to achieve outside success.  In 1963 Ritchey and Morral made headlines by qualifying for the first  Williams Grove National Open modified race which was won by future Indy car standout Gordon Johncock.
After Morral and Ritchey parted ways for a 9 year period, Morral hired the likes of Tommy Spriggle, Gene Varner, Milt Miller, Muss Weyant, Gary Howsare, Ray Tilley and Smokey Snellbaker to pilot the now famous 880 sprint cars.  Snellbaker produced the most success for Morral in the 1970's as the pair won over 50 races and consecutive track championships at Port Royal. 
Morral and Ritchey got together again to field a Camaro Late Model and found victory lane immediately in April 1978 at the Bedford County Commissioners Cup race at Bedford.  The pair didn't make a full season as Gettysburg's Jim McBee finished the year out driving the car.
Morral was back full time owning Sprint cars by the early 80's notably with Keith Kauffman, Scott Tobias and Snellbaker.  Kauffman was able to win the 1986 Port Royal championship first driving for Al Hamilton and then Morral as Kauffman changed rides by mid season that year. 
Later Morral was able to enjoy racing with son Randy in the micro sprint car division as the 880 found victory lane many times at a new venue, the Path Valley Speedway. 
Kauffman, Bedford's all time feature winner, will be in line up Sunday with Harrisonville driver Mike Wagner sporting a commemorative 880 paint job honoring Morral.  
The 410 Sprints will be racing 30 laps with $3,500.00 going to the winner. The Late Model Sportsman and 4 Cylinders will also be in action with warm up starting at 6:30 with racing at 7:00