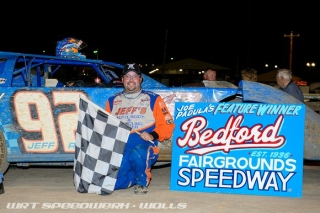 Racing was  the Friday night main attraction  at the 139th Bedford Fair.  Every  Bedford racer puts forth extra effort to do well at the fair in front of the largest crowd of the year and the Fair atmosphere.  Jeff Rine brought his A game as he guided Bob Elbins to a dominating win in the Late Model event.  It was Rine's second Bedford win of the season.  In other action,  Robby Black was almost as dominant in winning the Limited event,  and  Chris Chamberlain  emerged from wild three car racing to take the Semi Late win.  Bill Replogle and Mike Lauffer ended the evening  by scoring second consecutive  wins in Pure Stock and 4 Cylinder wins
    Jeff Rine started fourth in the Late Model event but left no doubt as to who was incharge as he was in the lead at the completion of lap one.  Rine continued to lead and ran off from the field after each of several early lap caution events.  Once the field settled down and ran 13 consecutive green flag laps after lap 7,  Rine opened up a commanding lead of over a half lap over Cory Weaver.  
    Weaver though attracted lots of company as Mason Zeigler  was streaking through the field with Jack Pencil in tow.   As Rine zipped in and out of lapped cars, the pair ran Weaver down and were in second and third when the long green flag session ended on lap 20.  On the much anticipated restart with 5 to go,   Rine did not let up  romping to a almost three second win at the finish.  Zeigler scored his best ever Bedford finish with a second, followed by Pencil     DJ Troutman was fourth and Matt Sponaugle came from 18th to take fifth.  Andy Haus, Steve Campbell, Matt Howsare, Chuck Clise and Wayne Johnson completed the top 10.  Rine lapped all the way up to tenth place  after setting his torrid pace.  Lincoln Ritchey, Campbell and Pencil won the heats.
     Jesse Snyder and Nathan Lasalle brought the Limited field to the green.  Snyder led lap one but it was Robby Black in front when the caution flew on lap two.  From that point on Black was the easy leader.  as Donnie Farlling trailed.  Farlling eventually had to withstand the challenge of  a fast closing Mike Altobelli and Tim Smith.   They ran from deep in the field and were all over Farlling as the laps ran down.  
      With the event going 7 green laps  at the finish,  Black ran off to a easy win, as the three chasers battled.  Farlling was able to hold on  over Altobelli  to score second at the line.  Smith was fourth, ahead of Ron Bottenfield, Brian Lessley, Eric Irvin, Dave Leidy, Mike Duck and Willy Rowe.  
     Ryan Beckett survived a wild first lap to be the early Semi Late leader.  three wild cautions flew in the first two laps before the field settled down, but Beckett led,  attracting a crowd at the front.   Five cars ran in a pack at the front with Cody Butterbaugh and Chris Chamberlain going for the lead.  That trio ran three wide the entire lap 7 before bumping together as they completed lap eight, causing Beckett to retire with a flat.  
     Butterbaugh emerged from that wild action with the lead but Chamberlain  got by on lap 10 and ran off to the win.  Greg Hainsey got by Butterbaugh and ran Chamberlain down but settled for second at the finish, ahead of Butterbaugh, Kerry Molovich and Don Wyles.  Jamey Swank came from dead last in the field to lead the second 10 ahead of Greg Cornell, Darryl Whetstone, Dave Whetstone and Dennis Collins.
     Bill Kennell was the early Pure Stock leader and also provided late race excitement.  Bill Replogle got by Kennell on lap 5 but he got caught by Terry Norris  after halfway.  Norris along with Chad Gambol and Travis Group ran in a pack behind Replogle battling among themselves for the duration.  The field was red flagged with two togo as Kennell managed to flip in turn one, but Replogle was able to race off for the win. Gambol slipped by  on the last lap to take second, ahead of Norris, Group and Justin  Milburn.  Brad Feight, Mike Ott, John Replogle, Jim Sacco and Ed Vogel completed the top 10.
     Mike Lauffer came from eighth to lead the first 4 Cylinder lap.  He ran off from the field early but Andrew Pluta actually ran him down as the laps ran off. Pluta was all over Lauffer and actually took the lead with one to go.   Lauffer battled back and the pair went side by  side to the finish.  Coming for the checkered flag that pair traded paint digging for the line.  Lauffer emerged with the win over Pluta. Cale Martin, Juan Ryan, Cindy Rhodes Dave Lambert and Phil  Best trailed.
LATE MODEL 25 LAP  1  Jeff Rine,  2 Mason Zeigler,  3  Jack Pencil,  4  dJ Troutman,  5 Matt Sponaugle,  6  And Haus,  7  Steve Campbell,  8  Matt Howsare,  9  Chuck Clise,  10  Wayne Johnson,  11 Dan  Cornman,  12  Dan Lee,  13  Cory Wewaver,  14  Greg Fetters,  15  Chad Hollenback,  16  Chris Harr,  17  Eric Zembower,  18  Chad Walter,  19  Samm Schaffer,  20  Matt Parks  21  Lincoln Ritchey.
LIMITED 20 LAPS  1  Robbie Black,  2  Donnie Farlling,  3  Mike Altobelli,  4  Tim Smith,  5  Ron Bottenfield,  6  Brian Lessley,  7  Eric Irvin,  8  Dave Leidy,  9  Mike Duck,  10  Willy Rowe,  11  Scott Daniels,  12  Travis Wilson,  13  Ralph Morgan,  14  Craig Perigo,  15  Travis Calhoun,  16  Josh Berrier,  17  Nathan Lasalle,  18  Jesse Snyder.
SEMI LATE 15 LAPS  1  Chris Chamberlain,  2  Greg Hainsey,  3  Cody butterbaugh,  4  Kerry Molovich,  5  Don Wyles,  6  Jamie swank,  7  Greg Cornell,  8  Darryl Whetstone,  9  Dave Whetstone,  10  Dennis Collins,  11  Joe Means,  12  Ryan Beckett,  13  Vigi Zuccollotto,  14  Zane Weicht,  15  Brian Duffy,  16 Bob Jay,  17  Paul Gambol  19  Taylor Farlling
PURE STOCKS  12 LAPS  1  Bill Replogle,   2  Chad Gambol,  3  Terry Norris,  4  Travis Group,  5  Justin Milburn,  6  Brad Feight,  7  Mike Ott,  8  John Replogle,  9  Jim Sacco,  10  Ed   vogel,  11  Ron Varner,  12  Bill Kennell,  13  Dan Daniels,  14  Jarrod Brown,  Tim Brown,   16  Brandy Mills.
4 CYLINDERS  12 LAPS  1  Mike Lauffer,  2  Andrew Pluta,  3  Cale Martin,  4  Juan Ryan,  5  Cindy Rhodes,  6  Dave Lambert,  7  Phil Best,  8  Nick Isky,  9  John Diehl,  10  Ron Valentine,  11  Bill Hassenplug,  12  Tyler Beckett,  13  EJ Johnson,  14  Mike Barclay.  Ernie Bowser,  16  Mike Datko,  17  Robert Pluta,  18  Jack,  19  Matt Diiehl,  20  Dustin Drake,  21  Kevin See,  22  Jeff Treece,  23  Irv Fleegle,  24  Steve Fredrick,  DNS  Garrett Watkins, Jon  Gerhart.