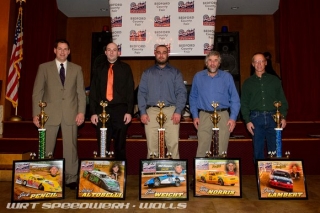 BEDFORD, Pa-
Bedford Fairgrounds Speedway concluded the 2012 racing season Saturday night December 1
st
, with the Annual Awards Banquet at the Bedford Elks Club Ballroom. The top ten points finishers were recognized in the Super Late Model, Late Model Sportsman, Semi Late, Pure Stock and Four Cylinder divisions.
Track champions receiving their awards at the banquet were Jack Pencil, Michael Altobelli, Jr., Zane Weicht, Terry Norris and Davey Lambert.
This season marked Pencil's record 7th Bedford Super Late Model track championship which combined with two Semi Late titles from the 90's marked his 9th overall championship. Making him the most successful racer in speedway history. At the conclusion of the racing season Pencil announced his retirement from the sport after nearly 25 years of racing. Pencil was presented with several special awards celebrating his career. Lias Tire of Indiana Pa, presented Pencil with a special appreciation award. The track also presented Jack with a replica trophy marking his big wins in the 1993 and 1994 Semi Late 100 lapper, replacing a trophy that was destroyed when Pencil's garage burned down several years ago.
Second generation driver Mike Altobelli, Jr. of Saxton won his first Bedford title in the Late Model Sportsman division in 2012. Altobelli maintained a consistent pace running up front almost every week, with a June victory to his credit. With his first Bedford championship to his name, Altobelli now also ranks fourth in total Late Model Sportsman wins. 
Everett's Zane Weicht put together fantastic 2012 campaign on his way to his first Semi Late Championship. After starting the season with no previous Semi Late victories, Weicht was a three time winner in 2012. This is Weicht's second career Bedford title, his first coming in 1999 in the old Cruiser division.
 Terry Norris, of James Creek, claimed his third career Pure Stock Championship this season ('01, '02, '12). In a highly competitive division Norris had one win this season adding to his career total of 10, good enough for 6th all time.
Everett's Dave Lambert also won his first Bedford Championship, taking the honors in the always exciting Four Cylinder Buzzbomber division. Lambert had a great 2012 winning 3 times against tough competition.
The 77th season of racing at the Bedford Speedway will officially commence on Sunday afternoon April 7th 2013. The annual Bedford County Home Show will again sponsor a racecar show for all divisions beginning at 11AM at the Bedford Fairgrounds Jordan Hall. Following the car show will be a test and tune session for all divisions beginning at 3PM. Opening Day will be the following Sunday evening, April 14th . With regular Friday night racing beginning April 19th.
For more information about the 2013 racing season at the Bedford Fairgrounds please check www.bedfordspeedway for additional updates as they are made public.