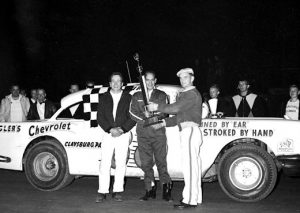 Two weeks ago, the Bedford Speedway reached a milestone that few racetracks can match. On Friday June 2nd the speedway completed its 600th Late Model feature in its history. To mark the occasion, on this Friday night, June 16th we are inviting each driver who has won a Late Model feature at Bedford to participate in festivities commemorating the 600th Late Model race.
Dating back to the first Late Model race at the track in 1965, 138 different drivers have won a Late Model feature at Bedford, and they are all invited to be a part of the celebration.
Beginning at 5pm on the midway we will be hosting a meet and greet, autograph and interview sessions for these returning Drivers. During the night's Race program, each of these drivers will be formally introduced on the front-stretch with a group photo being taken of this historic occasion directly in front of the main grandstand crowd.
While Bedford Speedway has been operating since 1936, Late Models did not begin racing at the track until 1965, with Turk Burket winning the first race in August of that year. Prior to 1965, Bedford hosted a variety of racing with the AAA & URC Big Cars most frequently ran at the track.
This Friday night the Late Models will be in racing action for feature event #601, joined by the Modifieds, Semi Lates & Pure Stocks on the racing card.
Turk Burket photo courtesy of John Pittman