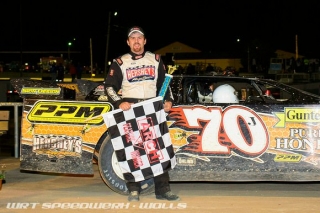 DJ Myers made his first visit to Bedford in 2012 a good one as he raced to the Late Model win Friday night.  Myers came from mid pack to score the thrilling win, snatching it in the closing laps from a disappointed Chris Harr.  Robbie Black dominated the Limited event, going pole to pole for his win in their 20 lapper.  Bill Henney finally ended a run of bad luck by snaring the Semi Late race, Travis Group won the Pure Stock event and Mike Lauffer prevailed in the most exciting race of the night, the 4 Cylinder closer.
    Chris Harr was the Late Model pole sitter and early leader.  Chuck Clise was his earliest chaser but appeared to be no threat  as Harr moved out to the early lead.   While Harr increasingly looked like he was turning around his miserable 2012 luck, DJ  Myers was sliding through the field from his 7th starting spot. By the time of the first caution period on lap 17, Myers was up to third behind Clise and Harr, and had brought tenth starting Andy Haus with him.
     The caution wiped out Harr's decent lead and placed Myers firmly in the mix.  He got by Clise on lap 19, then zipped Harr  two laps later.  Harr then added to the drama by spinning and collecting third place runner Haus on lap 22.  That set up a  three lap shootout between Myers and Jack Pencil, but Myers prevailed for the win.  Pencil took second.  Clise, Matt Parks, Cory Weaver, Wayne Johnson, Harr, Mitch Hack, Haus and Matt Sponaugle  completed the top 10.  Myers and Clise won the heats.
Read more »