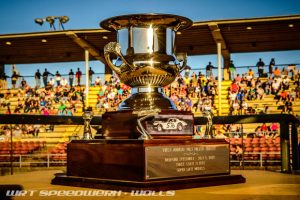 As is tradition, Bedford Speedway will celebrate the July 4th holiday with a busy weekend or racing this week.
Friday nights racing program will be highlighted by the annual Milt Miller Tribute for the Late Models, who will be joined by the Modifieds, Semi Lates, Sportsman Mods and Vintage cars. Four Cylinders. The Late Models will be racing 35 laps with $3000 going to the winner.
Friday night's racing program will include increased laps and purse for our Bedford divisions, along with the Late Models (35 laps/ $3000 to win/ $300 to start) the Modifieds will be racing 25 laps for $750 to win, and the Semi Lates will be racing 25 laps for $500 to win.
Racing will resume on Sunday July 7th with the Pure Stocks taking the stage for what has become their biggest event of the year, the annual 42 lap Charlie Walter Tribute. The evening will pay honor the memory of the multi time track champion who tragically passed away in 2014. The Pure Stocks will be racing for a greatly increased purse with the winner taking home $642 in appreciation of their support this year.
Sunday night will also include the Mason-Dixon Shootout Series for the Late Model Sportsman, they will be running a 25 lap feature for $1000 to win. Also in racing action Sunday night will be the Racesaver Sprints and Four Cylinders.
Friday night June 30th the gates will open at 5:00 with warmups at 7:00 and racing at 7:30. General Admission will be $20, with kids 12 and under free and pit admission $30.
Sunday night July 2nd the gates will open at 4:00 with warmups at 6:00 and racing at 6:30. General Admission will be $10, with kids 12 and under free and pit admission $30.
Information about the speedway is available at bedfordspeedway.com, as well as Facebook or Twitter or by calling the track hotline at 814-623-0500.