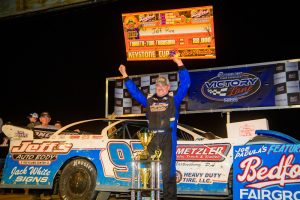 The sixth annual Bedford Keystone Cup on October 20th @ 21st is quickly approaching. The Keystone Cup will be the biggest race in Bedford Speedway's 87 year history and is the largest unsanctioned Late Model race in Pennsylvania this year. The Late Models will be racing for $23,000 to win, on Saturday night, out of a Late Model A-main purse of over $72,000. The 60 lap Late Model main event will pay $1000 just to take the green flag. On Friday night the Late Models will be running twin 20 lap qualifying features, each paying $2,300 to win. Joining the Late Models in action will be Friday night shows for the Semi Lates and Pure Stocks Four Cylinders, and Saturday night shows for the Late Model Sportsman and Modifieds.
When is it? Friday & Saturday, October 20th & 21st 2023. Friday gates open at 4:00, warmups at 6:00 with racing at 7:00. Saturday gates open at 2:00, warmups at 5:00, racing at 6:00.
Are tickets available? Friday night spectator tickets are available for $20, and Saturday night spectator tickets are available for $30. Kids 12 and under are admitted free to the grandstands. Advance tickets can be ordered by calling the speedway office at 814-623-0500. Two-day advance spectator tickets ordered before October 15th are $5.00 off. After that date tickets will be available for purchase at the track on the day of the event. Pit tickets will not be sold in advance and are only available at the track.
Is Reserved Seating available? Yes. Reserved seating is available in the main grandstand. Reserved seats ordered in advance are $5 for the weekend and can be ordered by calling the speedway office. The speedway seating chart can be viewed here: http://bedfordspeedway.com/seating.pdf
Is camping available? The speedway has plenty of camping spots available both with electric and water hookups and without. Camping spots with hookups are available and can be reserved until they sell out. Dry camping spots are also available. Reservations are preferred for those wishing to camp, as spots are limited. Those who wish to reserve a camping spot can call the Bedford Fair office at 814-623-9011. Camping regulations will be provided for campers and all camping rules must be followed at all times.
Racer bonuses: As is policy for Bedford events, there are no entry fees for competitors.
There will be various contingency prices for the races, which will be announced as the event nears.
Racer rules: All Bedford ground rules, and car rules, are available on the speedway website here: https://bedfordspeedway.com/rules/
What is the format? On Friday night the Late Models will qualify via time trials and also run their twin qualifying features and a dash. Saturday night will be Late Model B-Mains followed by the 60 lap, $23,000 to win main event.
Drivers will draw for time trial position and the field will be divided into a minimum of two, and a maximum of four groups, depending on car count, with driver's timing only against the drivers in their group.
Following time trials, drivers will race in 20 lap Semi Features with the lineup set directly from the time trial order of each group. The top two (or three) finishers of each Semi Feature, will then race in a Dash to determine the top starting positions in the A-Main. The next top finishers in the Semi Features will transfer directly to the A-Main, with the remainder going to one of Saturday night's B-Main features for a last chance to qualify.
The fast time drivers in each group will be locked into the A-Main, regardless of their finish in the semi features. The starting field will consist of 24 starters from qualifications with the 25th starter being the highest Bedford point driver not qualified.
The Late Model Purse: A-Main (60 laps): 1) $23,000 2) $10,000 3) 6,000 4) $3,500 5) $3,000
6) $2,500 7) $2,000 8) $1,800 9) $1,600 10) $1,500 11) $1,400 12) $1,300 13) $1,200 14) $1,150
15) $1,125 16) $1,100 17) $1,075 18) $1,050 19) $1,025 20) $1,000 21) $1,000 22) $1,000
23) $1,000 24) $1,000 25)  $1000
Twin Semi Features (20 laps each): 1) $2,300 2) $1,000 3) $600 4) $300 5) $250 6) $225 7) $200
8) $175  9) $150 10) $140 11) $130 12) $125 13) $125 14) $125 15) $125 16) $125
What else is going on? On Friday night, the Semi Lates, Pure Stocks and Four Cylinders will each be competing in a full racing program. The Semi Late will be racing 15 laps for $500 to win, the Pure Stocks 15 laps for $400 to win and the Four Cylinders 15 laps for $250 to win. On Saturday the Late Model Sportsman will be racing 20 laps for $1000 to win and the Modifeds will also be racing 20 laps for $1000 to win as well.
On both Friday and Saturday drivers are welcome to set up their merchandise, and sign autographs on the speedway midway behind the grandstand.
Where is the track located? Bedford Speedway is located on Business US Route 30, one mile west of Bedford, PA. The GPS track address is 729 W. Pitt St. Bedford, PA 15522.
Bedford Speedway hosted its first auto race on September 5th 1936, with Depression-era star Billy Winn taking the win. Over the past 83 years the track has hosted some of the greatest names in racing history. The speedway is located at the intersection of I-99 & US 30, with easy access from PA Turnpike exit 146, just blocks from beautiful downtown Bedford, PA.
Additional information on events at Bedford Speedway is available by calling the speedway office at 814-623-0500, at bedfordspeedway.com, or by checking out the speedway's Facebook, Twitter or Instagram pages.